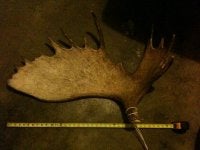 My parents came across this moose shed, 37" from point to point! (Would have loved to see the magnificent beast that shed this antler!)
Anyways, they gave it to me and I want to make a house plaque with my last name with it, the idea's I've been toying with:
Simply painting letters on it, simple and reversible, but seems a bit cheap.
Routing out the letters and filling it in with casting resin or something similar, I am concerned that by doing this I might compromise the integrity of the antler and cause it to rot out.
Burning or etching out the letters, seems like it would work well, but am unsure of how to do this neatly and effectively.
Anyone else have any other idea's/suggestions?
Thanks!