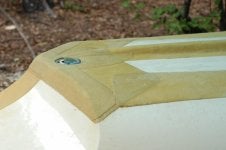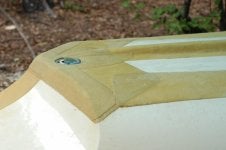 I hope these photos work. A savvy friend helped me with them. I have more photos
but the website only allowed 2. The kevlar felt was purchased from scott canoe.
It's much thicker, thus holding a lot more epoxy resin.The project took me about
8 hours. But this is new to me. I cut each 6 inch wide strip 32 inches long to make
application easier. I used west systems 5 to 1 epoxy resin to hardener mixture.
I had both slow and fast hardeners.I started with the fast but changed to slow as
the temperature reached 75. I started at the stern where I've found most damage
occurs. A full 10 by 30 inch skid plate.I cut close to the drain hole but allowing
enough room to work on it if needed. I then did all 3 keels. The center keel all the
way around the bow to the upper u bolt. I then added sacrificial kevlar to the stern.
3 by 30. So 2 layers at the most vulnerable spot. Also another layer just up from the
drain hole to thicken the hull and help protect the drain hole cover. My cover is
flattened and I have a new one but I left the old one on . I figure it's just going to
happen again. It took exactly a gallon of epoxy resin and a quart of hardener. About
230$.Felt another 65$. I think the boat is substantially tougher than before. The
kevlar and epoxy looks bombproof. Downsides?: The coating is thick and rough.
It may give a very slight reduction in speed and efficiency but I think the freedom from worry over damage is worth it.