Joined

Apr 18, 2013
Messages

922
Reaction score

36
Location
Hi all, me again. I'm plugging away on my raft maintenance chores and wonder if I can tap your collective wisdom on catarafts and motors. So I'm planning on putting a Suzuki 4 hp kicker on the back of my Couigar to facilitate lake crossings. I've got an essentially flat frame with three inches of drop in the middle. As such I've only got a single cross bar along the back of the main frame.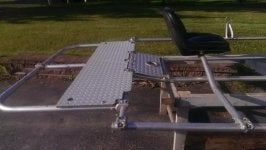 I've also got the mount below came with the motor.
I'm figuring the 4 hp won't be generating enough thrust to really torque this transom so I can probably get away with just bolting it to a single piece of aluminum tubing. My mad photoshop skills below show where I would remove the short length of tubing and bolt the transom to the frame.
Anyone have knowledge, experience, or an opinion as to whether I should attach to the main frame or the cargo platform? Or should I rethink this and get a cross bar with height so I can secure the transom to two pieces of tubing, high and low? I appreciate any thoughts you might have.
Thanks,
Earle