Joined

Oct 12, 2006
Messages

1,176
Reaction score

93
Location
This aggressive Goshawk nearly took my head off.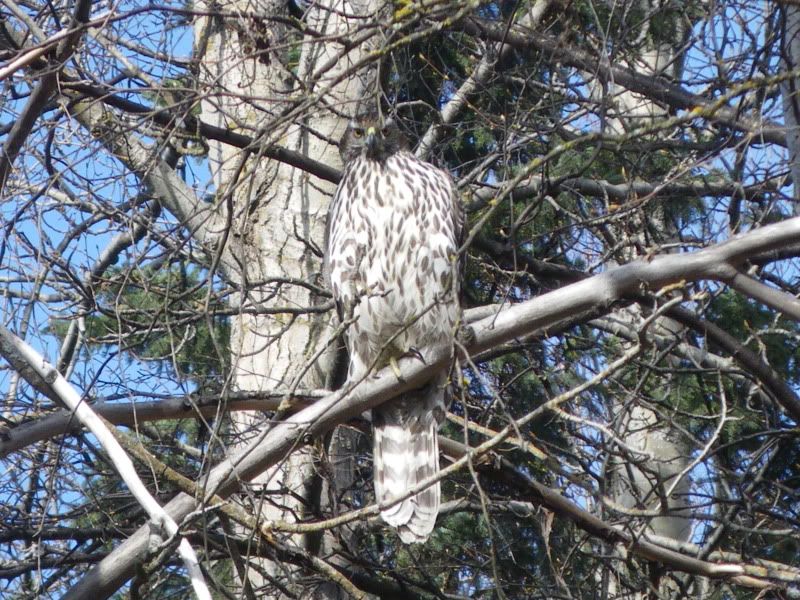 I had seen him out back chasing ducks along the creek. Powerful flyer. Didn't see him hit anything. Looked out the window later and he was on a mallard hen. He was tearing her up After he flew off I went out and observed he had cleaned the breasts down to bone. When I picked her up I saw she was a 2 bander.
I went online and reported the bands. She was a young bird that had just been banded in October. She was hatched in spring of this year.
That night I looked out and saw a drake at the kill site. On the ground in the spruce trees. Not winter duck country. I felt a pang of sadness as I realized he had probably been there when she was taken and had come back looking for her. I kept checking and he stayed there until way after dark. At 9:30 he was still sitting on the ground where she had lain.
I have killed a lot of ducks. I know how the world works. I was still humbled (impressed?) by the loss of one duck. At the same time I was thinking that hawk must have been pretty hungry. He and I do have history. He once came at me while he was on the ground. I think I was too close to a squirrel that time.
So 2 days later the same hawk had a drake down in the trees. Not knowing why, I took off out the door. When I got about 30' away the hawk took off and made a very fast loop thru the trees and came straight at me. Nothing but predator in those eyes and his wings were pumping hard. He flew about 4' over my head. The drake was frozen on the ground. I went back inside and looked out. The drake was now under a spruce tree and not moving a feather. He was gone in the morning. I think he was healthy as the tree was a ways from where he got hit.
I love living here. We have a chance to observe some interesting activities, if we only look. }:>