Joined

Apr 25, 2006
Messages

487
Reaction score

20
Location
WARNING: This post contains non-standard hunt, injuries, lack of preparedness, regret - oh, and a dead bear.
So we start this adventure with my arrival in Anchorage from the big T in mid August, early on a Sunday morning. Wife has been there for about 10 days and did the Crow Pass Trail - ALL BY HERSELF. We take a catch up on sleep after a red-eye, shopping/chilling out day. The next day we decide to head down to the Kenai for a couple of days prior to a trip out to our cabin on the Yentna river. Our first stop is Hope and a trip up the Palmer Creek Road for an overnight camp - put tent up, eat Mountain House meal, etc. in the rain. Next day, rain gone, cool, sun showing promise; we eat breakfast, and decide to drive down the road and glass for bears.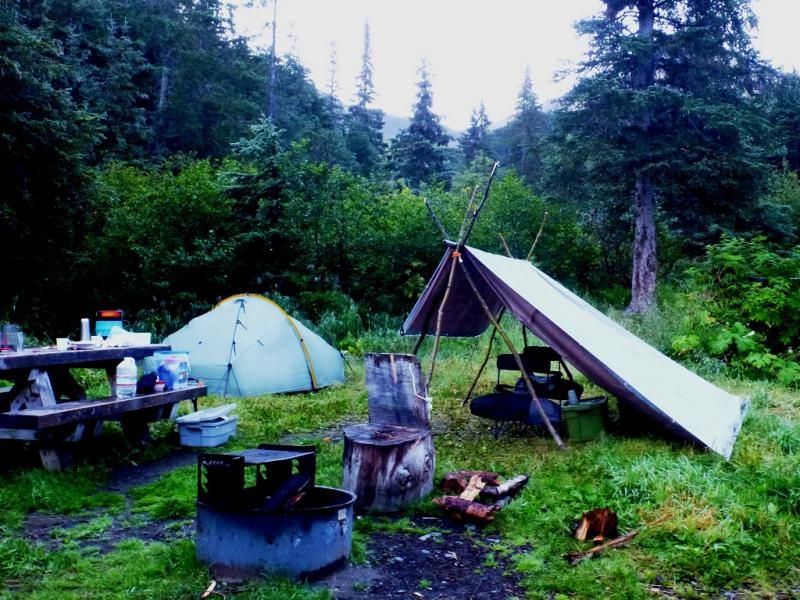 To back up a bit, I've purchase a black bear tag every year since 2009 with no success, including at least 2 trips up this same road, where I've seen bears climbed up and the bears have vanished, not to my surprise. Further, this is just a side trip, with no hard core training, other than my standard exercise regime, barely have tried on my pack. As a matter of fact, I thought we'd glass for a couple of hours, see nothing and head to Homer to see if there were any silvers as the Spit and then back to Anchorage for our trip out to the cabin.
So we head down the road, park a couple of places, glass and at about our second stop, the wife (of course) says, "hey, there is a bear". She zeroes me in, and way up high is a bear, sure enough. It moseys fairly soon over the to the other side of the ridge and out of sight. In the photo, it was a little higher than the yellow patch of trees.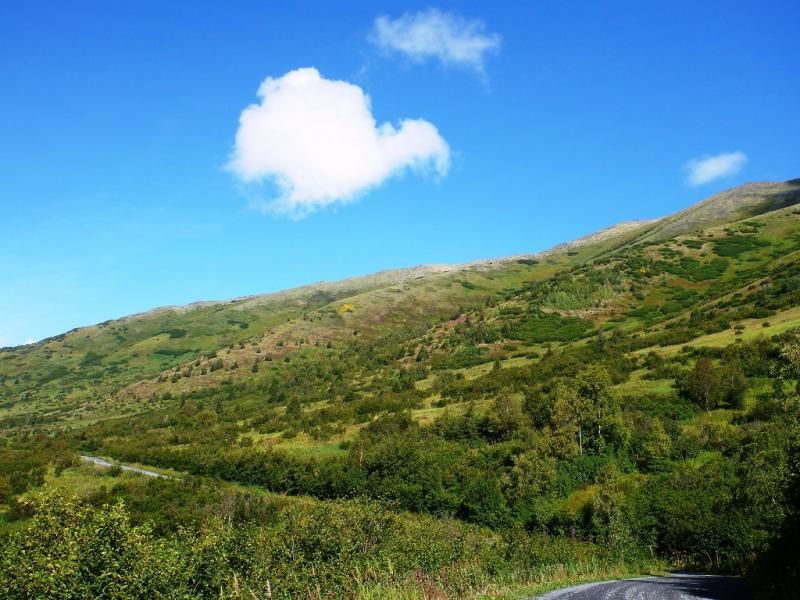 So, I'm obligated to go up after, right? I bought the tag, have gun, no excuses. So, I gear up with pack, new OR gaiters, hiking sticks, rifle, pack, game bag, knives, and a quart of Gatorade (hmm? - don't guess ahead) - no camera or cell phone. I pick a ridge which I swear I've been up before, easy goes it, one step after the other (occasionally stopping for a handful of blue berries) and finally get a good way above the elevation of yellow patch and then work my way over to the ridge (two hours and counting) and peek over, down, and across. No bear. Then I glance up. Bear! Holy crap! Above me! Where is the wind? Rising of course.
So, I back out, drop my pack and hiking sticks and work my way up the backside of the ridge between the bear and me. Peek back over, and there is still the bear. I study a bit through the binos, good-size looking bear, no cubs. I range it, 200 yards or so after I get it ranged, and I try to get into a position to shoot. The bear is beginning to act like may he smelled something. Did I mention that I've now developed a good case of "bear fever" or that I left my pack 100 yards or so down the mountain? Vegetation is in the way, so I try to bear down (no pun intended) and I fire off a shot. High. The bear, wondering where said shot takes off away from me; second shot is high. "Okay, calm the f*%e down," I tell myself. Hold on hair, bear still trying to sort things out, whack. Solid hit, but I can tell it's a bit back. Down the mountain he goes; crap, headed to the alders, fast. Down my side of the hill I run, plucking rounds out of my riflestock butt cartridge carrier. I sit down, bang, miss, bang, miss, bang, hit - right through the shoulders. @ss over tea kettle he goes, about 40-50 yards down the mountain, and stops just short of the alders. The black spot doesn't move for minutes.
Back up the ridge, wave to the wife hoping she sees me from the vehicle, and retrieve my gear. She has seen me, but heard nothing due to the distance and me being over the ridge from where she was located. I go back, black spot is still there in the deep grass, and I make my way down. Whew! Big mature boar, just as I was thinking; I'm just guessing at 250-300 pounds. I get him rolled over, head up hill on the almost 45-degree slope and get to skinning. Sun is out in full force. Remember the lack of camera and the quart of Gatorade. Skinning, etc. takes me about 2 hours. I decide to take backstraps and a ham - and this is where the regret comes in - I should have taken a whole load of meat even though I wasn't legally required to do so. Meat in a game bag, hide with feet and skull on top inside the Kifaru Longhunter. Gear, pack, rifle, on my back. Whoa! Jesus Chr!st! Is this heavy or what? Down the hill I head on unsteady legs and hiking sticks. Not long before my feet slip out from underneath in the tall wet grass. On I stagger, but before long I decide that if I'm going to slip and roll down the mountain, I might as well let the pack go ahead of me. So that is how I work my way down, rolling my cinched down pack down the hillside in front of me. This works well until the hillside starts to flatten out, and I get to a deep, wet ditch. As I move the pack across the ditch, my right foot slips and my left does not. Ping, there goes my left calf muscle; from previous experience, I can tell it's pulled/torn. Now I'm in a pickle, and moving much slower. Have I mentioned the now empty Gatorade bottle? I make it about 60% to the road when I reassess the situation. I get the pack back down in a ditch and get a good bearing on it, then proceed to crip my way down to the road. I'm hurting and dry, and I'm hoping my wife and vehicle are still where I left them several hours ago.
A car comes by, because it's a beautiful warm day; I flag them down and ask them if they see my wife in our vehicle up the road to please send her down. I must have really looked a sight, sweat soaked, dirty, and hobbling. About 10-15 long minutes later, salvation arrives. Water is drank, food is eaten. We discuss options to retrieve my pack. She suggest and agrees to go try and get it, and we rig up one of our big rubber Gage duffel bags and a rope. She takes off, this time with a cell phone, and I guide her to the pack/bear hide; she gets it in the duffle and down the hill she comes. Hurray for the super trooper! And we make it back to the campsite.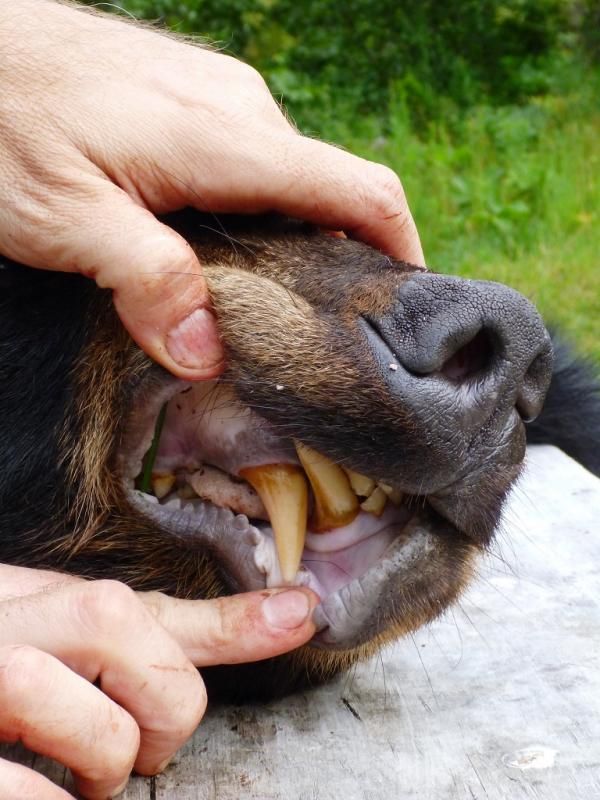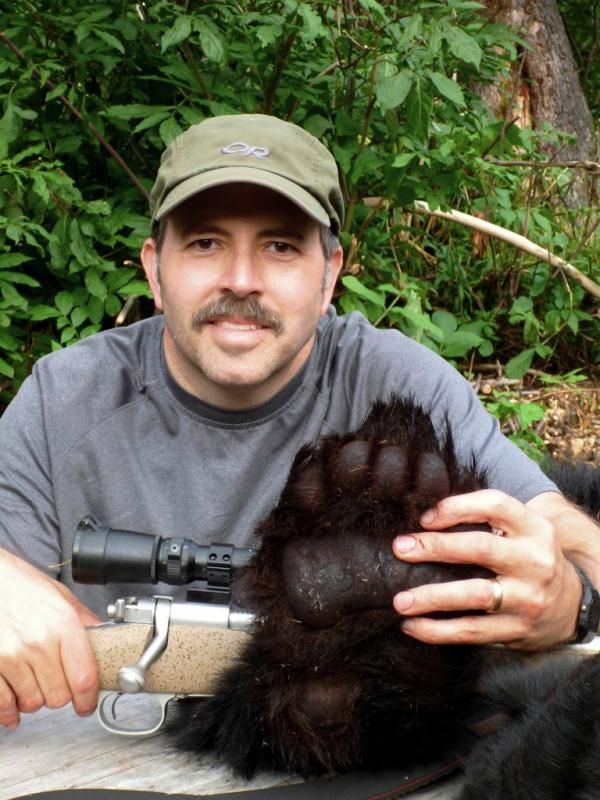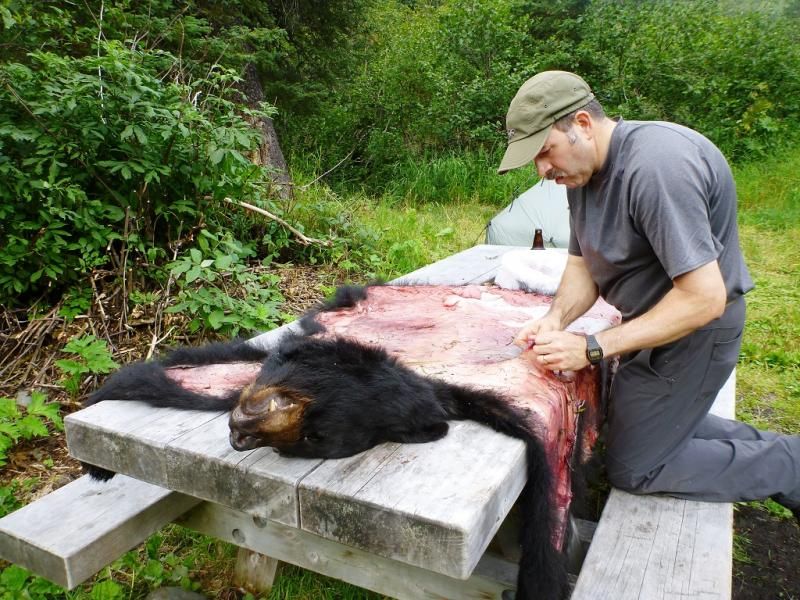 We work on fleshing out, caping the skull, and salting down the hide. And then get a good night's sleep. The next day we packed up camp, drove the road to the end, and then head back to Anchorage. We drop off the hide at Fur and Feather and then to get an even better night's sleep. I first clean the meat up and get it ready for storage; I get it vacuum packed and stored at 10th & M and we head off to catch the bush flight to the cabin.
It takes about a week to heal enough to not limp much, but my shoulder is still sore from one of my falls. We make it home and the first week we try one of the backstraps/loin roasts. Mike at Fur & Feathers says my bear skull measures just shy of 18 inches; I'm really pleased for my first bear.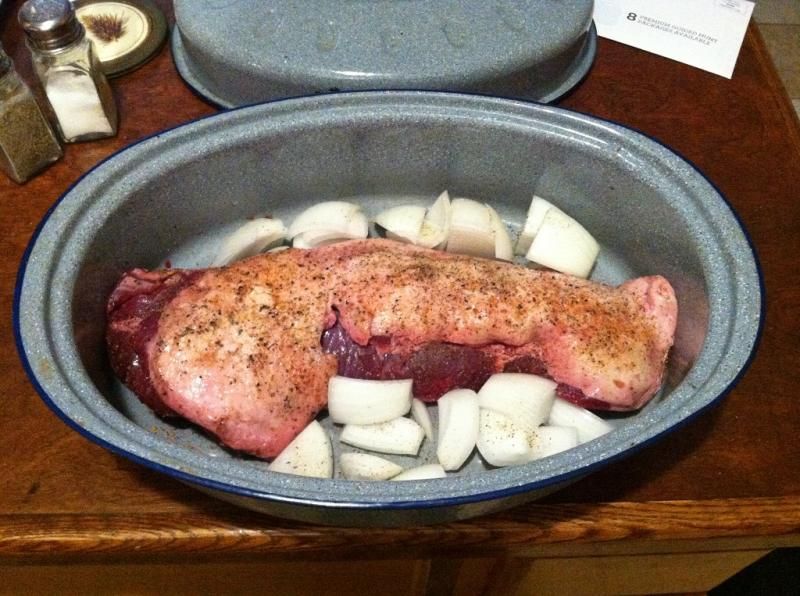 With the slow cook and the sweet BBQ sauce I make up, it is delicious. More regret, I'll never leave a mountain bear's meat, at least the best parts, on the mountain again regardless of the requirements.
Equipment list, for those that are interested: Swaro 10x42 SLCs, Win Model 70 30-06 with McMillan stock, Fed Premium Trophy copper 180 gr. ammo, 2.5-8x36 Leupold scope, Kifaru Longhunter pack, Leupold ranger-finder, old Nikon spotter, Tarptent Scarp 2 tent, Wiggy's sleeping bag, Downmat sleeping pad.