Joined

Apr 18, 2013
Messages

918
Reaction score

36
Location
Hola, I promised to share with you all the bear fence I put together. Here's the package:
Starting at high noon and going roughly clockwise we have
8 carbon arrow fence poles(16 arrows total). Cost me the arrows in my repair bin plus a few more from CL at $1 each. About $6 in inserts and glue and $5 for the 8/32 headless bolts. Straps are from old toe clips. Item total ~ $20
4 fiberglass fence poles. These are the 4' yellow fiberglass driveway markers from Lowes, cut in half with a cutoff wheel. 5" of aluminum tubing and some silicone caulk for each ferrule connection. Item total ~ $18
2 grounding rods, 12" galvanized spike. Item total $1.20
2 ground wires with clips. The alligator clips come with the charger and I used 6' of 14 gauge wire on each. Item total ~ $3
6 plastic gate handles. Item total $12
1320' of 6-strand polywire. Item total $35
2 extension cord winders. Item total $10
2 Zaremba B10LI Low Impedance fence charges (the Yellowjacket model). Runs off 4 D-cell batteries, or 6V or 12V. The alligator clips I presume are for a 12V battery. I used them for ground wire, if you use an external battery you'll need something else. Item total $194
Fi-Shock multi-light electric fence tester. It works fine in my garage, but outside on a sunny day I could barely see the lights. Moderately useful but probably better off going upscale. Item total $10
36 eyelets for anchoring the polywire to each fence pole. Fashioned out of zip ties, two per eyelet. Two small loops, one sized to just slide onto the fence pole. Item total ~ $2
This gives me two fence enclosures, one for camp and one for my rafts. Things I still need to get are a bag to put it all in, tiedowns for the corner fence poles, and a couple stakes to attach the charger to. The fence posts are too wobbly to hold up the charger.
Total costs for two fence kits is $405.20. The Bear Shock Ultralight and Outfitter packages together cost $570. My kit is heavier but more capable.
https://store.udap.com/merchant.mvc?Screen=CTGY&Category_Code=BEF
One item I bought but did not include is a polywire tensioner. The ones I got are pretty heavy duty and just weigh too much in my opinion. I'll probably bring a few with my on my float hunt this year but I'm more likely to just re-tie the polywire if it gets loose. This is the item :
http://www.amazon.com/gp/product/B00434FA0O/ref=ox_ya_os_product_refresh_T1
Oh yeah, need some flagging. The polywire isn't exactly high-vis stuff and you want a bear coming in curious and slow. Here's a pic of the top polywire connected to four poles in a 25 x 25 square.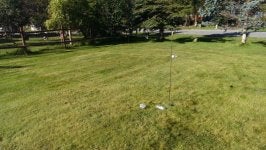 I'll follow up with a field report in a couple weeks.