Joined

Sep 21, 2006
Messages

93
Reaction score

7
Location
Flew to Kodiak on Oct 5 with the intent to harvest a goat on my coveted Crown mountain goat tag. 2 friends and myself arrived in Kodiak and were picked up by Seahawk air and driven around to collect fuel and have breakfast.
Weighed all of us and our gear, 85 pounds under! Perfect! Roland arrived at the dock and unloaded Louis and Ruth Cusack and Ruth was nice enough to show us pics of her goat harvest. Congratulations and Good lucks were exchanged, fuel pumped in the plane and we were off. Unfortunately it was to windy to land up high on a lake and we used the backup plan of landing on Hidden Basin on the saltwater.
Unloaded gear and set up camp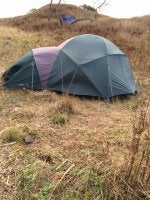 we then grabbed optics and headed up Wild creek to see what we could see. Watched a beautiful Billy until sundown and returned to camp for some dinner.
Next morning up for a quick breakfast and packs loaded. Beautiful morning of sunny skies and no wind. We headed up Wild creek again to choose a route up the mountain. 2500 feet to go! We picked a route that looked doable to get high and get into the area we needed to be. We started up a chute and the higher we got the more loose the rocks became and it became a 3 steps forward, 2 slides back. But we were gaining elevation slowly but surely, as we got higher i also noticed the small seeps of water were becoming less frequent so I guzzled a quart of Gatorade and refilled my water. Little did we know that would be the last water we saw until we got to our camping spot.
As we climbed higher and higher it became apparent that things from below are not reality on the side of the mountain, the bench that we saw from below that we thought we could cross was an impenetrable morass of alders and the infamous "Kodiak sticker whip". So we did what we had to do and continued climbing until our chute ran out and we had to just plunge into the jungle and after that it was hand over hand climbing and cussing. We finally sidehilled enough to start getting clear of brush and I found a patch of blueberries and greedily ate handful after handful.
We finally got into a bowl and found a level spot to pitch our tents and had a nice little stream running by it. And even better news. Goats were everywhere. We ate a Mountain house and hit the rack, tired but happy we had made it. That night the moon and stars were out so bright I'm pretty sure we could have seen goats.
The next morning it was COLD!! Up and Jetboiled water for oatmeal and coffee, stamped out our frozen boots and started glass ing. 7 goats magically appeared over a far ridge and the Big Billy we had watched had decided he was leaving the area he had been staying. So, we waited for him to feed around the corner of the mountain and headed in his direction. Meanwhile the 7 other goats we had seen had bedded down. We got in position to drop our packs and creep over a small hill and hopefully get a shot at the Big Billy. As we crept up to the top, No Goat! ***! Where did he go? We started glassing and finally found him he had started climbing and had gotten higher than we thought. Then, we also saw he was close to a Nanny and kid now that we hadn't seen before. We backed down and started circling around the mountain more to get into better position. We were moving when we looked up and "Busted" the nanny was watching us. I ranged her at 367 yards and it was a standoff as we waited fo the Billy to show himself. No dice, Billy never shows. The Nanny moves back behind a rock pile and we move to a small drainage out of sight. We climbed another 500 up the small drainage and dropped our packs below the top to crawl up to the top. As we topped out we could see the Billy still feeding across the mountain, out of range. ****!
As we are sitting there, my friend Adam says: Don't move! There are goats right behind us. Yep. Right above us. 3 goats. I slowly turned around, grabbed my rifle and scooch slowly up a little higher. As they goats were above us one steps out and looks down at us. It's a Billy! Safety off, Boom! 24 yards! One shot, dead goat! After helping others pack goats off the mountain it was finally my turn! The other 2 goats just stood there looking at their partner who barely wiggled. This is what we got.