I just returned from a long trip in the Sound that included beach-combing on some pretty remote stretches of coastline. On two different beaches, 50 miles or more apart, I found a small blue plastic toy duck with a number written on the bottom.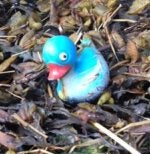 My initial assumption was that the floating toy ducks were part of an ocean current experiment, and that a quick Google search would take me to a web site where I could let them know, "I found your duck # such-and-such as these coordinates" and then see where the duck came from, and where all his little ducky friends drifted to.
Instead, everything I can find online has to do with the 28,000 bathtub toys lost off a container ship in the early 1990's, and where they drifted over the ensuing decade-plus.
So, has anyone here ever come across a blue plastic duck with a number on the bottom? Any clue where they came from, or why?