Well this year I wasn't able to get out and hunt much at my stand as I usually do. I
actually had to let it sit a week-half, almost 2 weeks without baiting. I was surprised
when I finally checked my cam that I had a nice size bear hitting it(for my area), on May 27.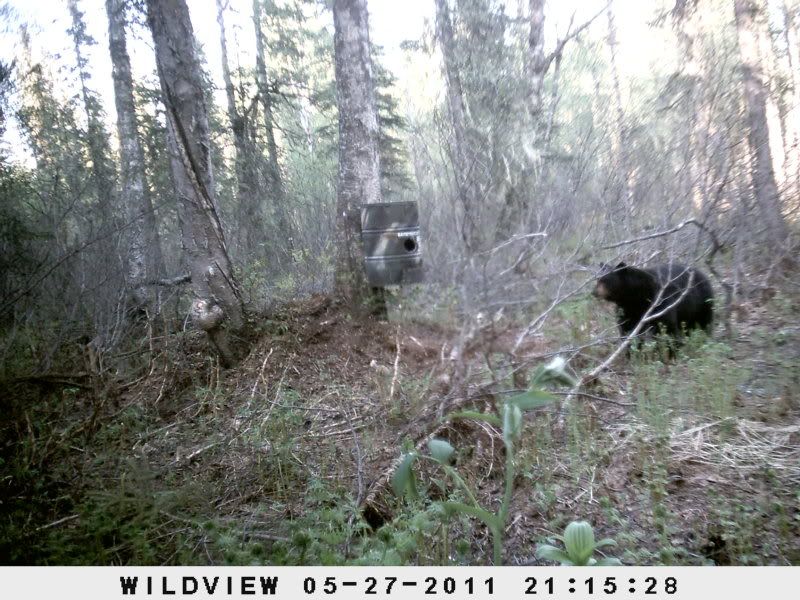 I finally went in to re-bait on June 1. The next night we headed out(my first time hunting my stand this
year) and got in stand about 430pm. Had a small bear appear and than disappear into the brush. Than sat
for another few hours watching squirrels and shrews eat my bait(almost got an arrow in a squirrel lol). As
luck would have it, my first night even hunting my bait site, the nice bear from my trail cam pics appeared.
He cautiously approached, staying behind the brush and teasing me for a good 20-30 minutes. I did notice
that he was limping in someway. Turns out he had been hit by a car or some vehicle, and broke leg in two
right at the knee. He finally came out of the brush and got in my shooting lane, still not providing a good
bow shot. He than turned broadside and I let a 440gr Easton FMJ with Rage broadhead fly from my K&K
Vengeance bow, double lunging him. He went 10 or so yards and gave out a death moan. It was an
awesome hunt, this is my 3rd year baiting and 3rd black bear I've taken with a bow. I love it. Anyways I did
get this hunt on camera so you can see for yourself. I'd like to give a thanks to Jess at Bait Em 907, this is
proof that her products works great! The bear ended being about 6', I have yet to measure the skull as I am
still wondering what to do with the hide(thinking a shoulder mount) anyways...Thanks for looking! Video is
below, nothing fancy for sure but is one of my first times filming my bear hunt.