Joined

May 3, 2007
Messages

934
Reaction score

56
I was out predator calling a couple weeks ago and on my way back, my skandic LT started to act up. When I would go to give the machine power while cruising along, the thing would slip. It was almost as if a gear wasn't engaging, or the feeling of the track slipping on something. I stopped and checked out the sled on the trail and everything looked alright. I popped the hood and the belt was fine and everything else looked as it should. It was around 7PM and -20ºF outside, so I really wanted to get back to the truck, which was still 9 miles away. I went another 1/4 mile and the machine kept losing speed and eventually all it did was make that slipping sound. I called home on the sat phone and told everybody what was going on and that I'd call them back in an hour with an update. I took my action packer off the back of the machine and flipped it up on the side and saw that the track had about 4 inches of slop in it. Upon closer inspection the problem presented itself. The front A support arm has two bolts on each side that attach to plates that mount on the runners. One of those bolts had sheared a head off and then the other side slowly cut its way through the other plate. Upon cutting through, the two torsion springs attached to that A support let loose, essentially taking almost all pressure off the track.
I broke into the action packer and went to work with all of the cam lock straps I carry. I put 4 of them on the A support and tried the machine, but it was still just spinning with no go. I flipped it again and got the two torsion springs held down and 4 other straps around that A support to hold it in place. I was pulling with both hands and feet on those straps to get as much tension as possible into them. Then, I flipped the machine and put two more straps on the other side in similar fashion. Reluctantly, I tipped it back flat and fired it up. Very slowly I gave it throttle and it moved. It seemed to engage like normal, which made me very happy. At this point I was really working up a sweat from tipping and strapping that machine. I quickly put the action packer back on the machine, slung the rifle on the back and very slowly headed down the trail. Here's a quick picture of the strap job on the side that sheared the plate: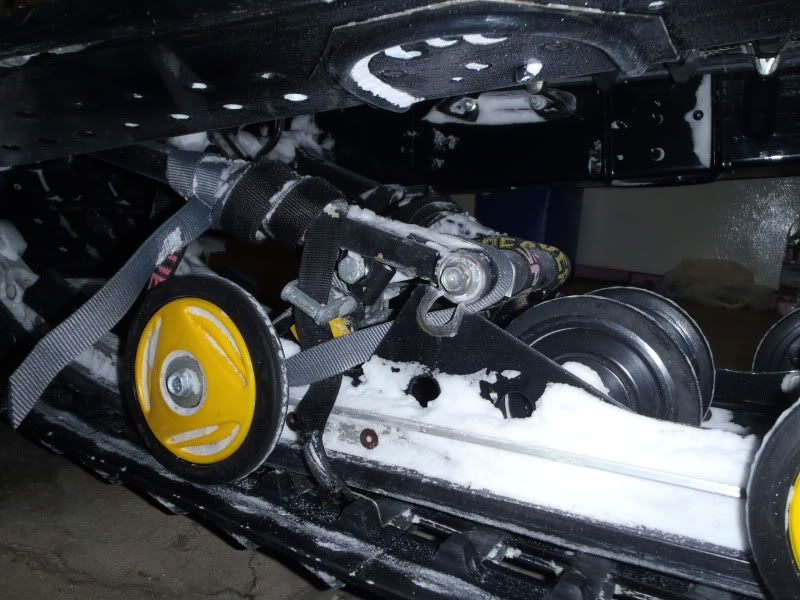 I'm sure glad that I carry some of the odd-ball things that I do. Paracord and bailing wire would have been hard pressed to fix this one for me. Tools wouldn't have helped me either unless I had a welder with me and new bolts to fix that sheared plate. The only thing that would have made this field fix easier would have been two of the self retracting ratchet straps. With two of those I really could have sucked up that A frame in a hurry and strapped it down. Those are now added to my list of goodies I carry in the field. My wife was quite happy when I called her back and let her know that I wouldn't have to hike out. She was happy and I made it home in time for some very tasty dinner.