Joined

Jun 17, 2008
Messages

77
Reaction score

12
Location
I've longed to return to Alaska since my first trip in 2008 and I was finally able to make that happen this year. During my 2008 hunt I vowed that, despite having success, if I was to hunt the same river, I would fly into the mountains and float back to the road. This hunt took place on the river that's so popular off the haul road. So, when the planning started for this trip, I contacted 70 North at the suggestion of Steve (Stid2677). We booked the trip for 4 guys and booked 3 flights (at 600 lbs per flight) so we wouldn't have to worry about going super light.
I spent the past 2 years upgrading gear and ironing out logistics. Fortunately I have a good friend, Mike, who lives in Wasilla. This
made transportation and acquiring rafts to use much easier. We initially intended for the trip to include my buddy from Alaska, a former Alaska resident buddy who lives in Reno and a good buddy from Pennsylvania where I live. The guy from Reno backed out 3 weeks before the trip, but we were fortunate to be able to replace him with Dave, a friend of Mikes, whom I'd never met. I was nervous about doing an trip like this with someone whom I'd never met, but as it turned out, Dave was a perfect fit and someone whom I now consider a good friend.
Brian, my buddy from home, and I flew into Alaska August 25th in the evening, and hung out in Anchorage waiting for Dave to land later that evening. We got back to Wasilla late and settled in. We woke Tuesday morning and got busy with last minute tasks. Purchasing and preparing some pre-made meals, picking up Mountain Houses (thanks to whomever posted on here about the sale at Fred Myer), changing the oil in the truck and of course, a trip to Cabelas for a few last minute things.
We inflated and double checked rafts, a 12 foot Alaska Outfitters and a 14 foot Aire, and then deflated them and packed them up in the enclosed trailer we had borrowed from one of Mike's friends. The trailer, turned out to be a huge benefit, as we were able to transport all the gear easily and keep it clean and dry.
We rolled out of Wasilla on Wednesday afternoon at 4 and headed North. Most people hate the idea of driving 17-18 hours, but I really enjoy the scenery of the drive. We had initially booked to fly out Friday the 29th, but I had spoke with Mike from 70 North a few months before the trip and tried to change to Thursday the 28th. He couldn't guarantee anything, but said if we got to Happy Valley on Thursday he would do his best. We arrived in Happy Valley at 9 am on Thursday the 28th. We met with Mark Richards (Bushrat) who informed us that they were going to be able to get us out in a few hours. We organized gear and got set up. The initial plan was to send Mike and Dave in first, a load of gear second, and Brian and I last. As Mike and Dave flew in, Brian and I shuttled the truck to the take out. When we arrived back, Bob wasn't back from dropping Mike and Dave yet. It looked like some weather might be moving in, so I made the decision to change the plan and send Brian and I in on the second flight. I wisely grabbed the jet boil and MSR reactor from the gear load, along with some fuel and a dry sack full of mountain house meals. Bob dropped Brian and I and shortly after weather did move in, preventing the rafts and other gear, including our pre-made and vacuum sealed meals (chili, grilled chicken, meat spaghetti sauce), from arriving. Mike and Dave had things pretty well set up and we got squared away and hit the sack. We awoke Friday to snow on the ground and more falling. There was very little visibility, so we hung out in the tent and did some fishing. At around 1 pm, the weather started to break and visibility was increasing. Brian and I headed up on the ridge above our camp site to glass, as Mike and Dave napped. I wasn't on the spotting scope long enough for Brian to get comfortable before spotting a group of 10 bulls way down the river bed, heading our way. The bulls were so far off that I could barely see them on 36x. I could tell that a couple of the bulls were nice mature animals and quickly packed up things and headed back down to camp to grab the breathable chest waders we had packed and cross the river.
We woke Dave and Mike and Dave grabbed his stuff and went with us, while Mike climbed above camp and said he would get on his spotting scope and keep an eye on what the caribou were doing. We quickly crossed the river and had a half mile or so of alders to cross before we could get to where I believed this animals would cross. As we moved through the alders we spotted the bulls and they were stopped and feeding about 600 yards away. We made our way through the alders and eventually got to 200 yards. We each picked a bull and it took what felt like forever for us each to have a clear and ethical shot. Finally the shooting started. We each dropped a bull. Things then got interesting. We hadn't seen a caribou at all on the flight in. The reports were that the caribou were still on the coast and further east than where we were. I quickly made the decision to fill my second and final tag on another nice bull in the group and did so without coordinating with Brian or Dave. Apparently they both had the same intentions and each shot a second bull as well. Within a span of a few minutes we had each filled our two tags and were tagged out! The 4 remaining bulls in the herd circled around and headed toward the river. Honestly, none of us paid much attention to them as we were busy patting each other on the back. While we celebrated we heard 2 shots from the river. The remaining bulls had headed right to our camp and Mike, perched above camp, dropped the largest remaining bull approx. 65 yards from the tent.
We spent the rest of Friday and a good part of Saturday quartering, caping and packing meat back to camp. We had intended to start moving Sunday, but decided to take the day Sunday to take proper care of the meat. We took it out of game bags and hung it all on cordage we rigged up on the side of a rock wall. It worked well as the meat dryed out nicely and cased up. While tending to the meat a group of 3 bulls, with 1 really big bull, were spotted making their way toward our camp. Mike moved into position and was made a good shot at just 83 yards. (Our 8th bull).
Much of the snow from Friday had melted and river levels were good. We started out Monday morning floating and were making good progress. Later Monday weather started to move in with some pretty good rain and cooler temps. As we set up camp Monday, it began to snow hard. We woke Tuesday to 4+ inches of new snow. As we continued floating we spotted a few caribou crossing the river and hopped out and climbed up the bank to get a closer look. As we did, Mike turned around and spotted an enormous group of caribou crossing the river 400 yards behind us. We moved up and got in position. Mike could kill 5 caribou and at this point was really only looking for another real big bull. The group of caribou crossing was incredibly large, much larger than any I had anticipated seeing. We estimated that there were between 1500-2000 caribou in the group. Mike settled in and picked out a nice big bull and made the shot. A little over an hour and a half later we were back in the rafts and floating.
Tuesday afternoon the weather moved in again. The temps were cold and the winds increasing. It was in the mid 20s with 25-30 mph sustained winds. We made camp Tuesday night tucked up against a bank to protect from wind. We woke Wednesday morning to all our water frozen outside the tent and frozen boots. Temps were easily in the low 20s. It was windy, but not nearly as bad as it was going to get. Wednesday we fought strong head/cross winds that were easily gusting to 45 mph by the days end. At times it was a struggle to keep the raft moving downriver against the wind. With great water levels the float should have been much easier, instead we paddled constantly to stay in the right channel and off the banks.
We set up Monday anticipating 3 days to get to the truck. I believe this would have been plausible had it not been for the intense wind we fought the whole way. We made camp Wednesday night, just North of the Echooka, after achieving just 1.5 miles in the last 2 hours of floating.
Thursday we awoke and it was still incredibly windy. At times during the night the side of the Alaskan Guide Series tent we were in buckled momentarily and hit me in the head. We waited until 1030 for the wind to die down and it did not. We sucked it up and set out to reach the truck. Fortunately the wind died down as the day progressed and we ended at the truck under calm conditions. We floated to the second take out at MM 41, as we had been told that people were having trouble getting to the 1st take out.
We celebrated reaching the raft, as the past 4 days had been a struggle. In total we killed 9 bulls, with some real nice mature animals.
I have to thank 70 North who did a real nice job accommodating us. They were very professional and safe. Special thanks to Steve (Stid2677) and Mark Richards (Bushrat) for their help and guidance.
We didn't see any bears or wolves, although there was plenty of sign. We had hoped to fish more as we floated out, but as I said above, the floating became a war against the weather, and we didn't fish nearly as much as I had hoped. Dave did catch some nice sized char near our camp.
There were a lot more guide camps and air boats on the river as we got out of the mountains than I remember in 2008. This hunt is obviously no secret, but we did see small groups of bulls from the mountains to the Echooka that we could have killed. I never felt overcrowded.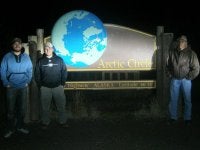 The rafts performed flawlessly, even under the weight of 9 caribou and gear. The Aire was barely drafting any water, despite a fairly heavy load.
I can't wait to get back and it wont take 6 years this time. I'm thinking a moose hunt is next.