Well I think I am about to cross over from a neophyte gear junkie to a full on excentric! I love to find those gems that bridge the ever elusive cost versus quality gap. I have managed to do it on various things like my tikka t3, minox HG's and Pentax spotter. I have recently ponied up the additional cash to get a few things that are at the apex of their industry my Hilleberg tent, and my GPS unit w/ mapping software are two examples of that.
Now I am on the precipice of making the ultimate mountain gear purchase. I have been talking via email to Dan McHale and I will be sending him some cash to that he can mail me a demo pack. Then we are going to be working to fine tune the ultimate fully custom long distance mountain hunting pack. I am hopefull to see final numbers come in at ~7500cu in + and a total weight of ~6lbs. I am still working on the necessary tweeks that will go into it but it will have an adjustible or at least a lowered pocket on one side to allow for a rifle to be carried more easily.
Here is the basic pack setup that I am leaning toward. It is still early in the planning and there is plenty of room for Dan to sway my judgment based on his experiance.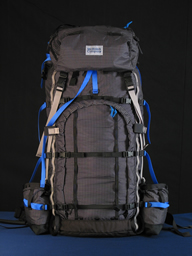 This is the MB series but I am hopefull that he will build this style with the
INEX size
. The pockets etc will be modified to fit my purposes.
I believe that my dream of owning the ultimate
internal frame
mountain hunting pack will soon be at hand!