Well, with my odd habits of sleeping at only nessessarry times, I found myself working on my '05 RMK600.
Blew the chain off last week and the wife and I walked 10 miles into Kotz. Sent for the parts from the oldest son, put it all in and Whamo, that afternoon, someone with a car at the Kotzebue Post office backed into my rig and crushed up all the cowlings louvers and split my tub, bumper....just nice tire marks in the snow for them...
Talk about Pizzing me off.
Still moved forward and all the damage could be fixxed witha new cowling, so I have an uglypainted one here at home and on it gos....
So we got home and a family Thing brought my wife and oldest son to Kiana for a couple day, and on their way home the engine siezed....wonderfull. I sure didnt want them off on our only other rig, but alas, they are back up there for a couple more days.
This engine has about 22,000 miles, is on its third set of cups, so the crank/connecing rod bering was flat on the right side when we did the postmortem. the clutch side shaft berings are a bit skittery and wold not have lasted long either.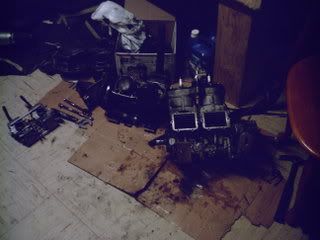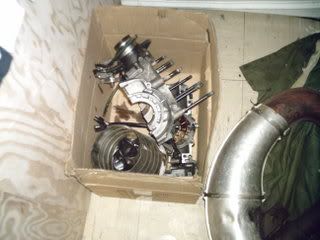 Cylenders are fine, as are the pistons..... never have burned this engine up, just cracked skirts and small troubles before.
Enter the bro inlaw, who we reside with and his 600 '06 Fusion that he tore the front right side off of hitting a stump that was lurking under the snow at a decent clip....threw him pretty far.
The Fusion manifold, intake and body mounts had to go, and my old ones fit , and shes outside idling right now. I'll get more pix later.