So, after years of trying, I draw a First Season Raspberry Island Bull Elk Tag this year, Wahoo… My First Draw Ever. Determined I'm gonna Hunt Hard, and Take Full advantage.
Shortly after the draw results are released I am furiously reloading for my .270wsm with the largest and best bullet I can find in .277, a 160gr Nosler Partition. Lots of fans of the Partition, I receive several notes from old time Elk Hunters, that's a great bullet for Elk. So, I dial it in, a couple loads hitting .52 and .64 inch groups at 100yards.
On my way back from Fishing Sablefish out west, in mid September, I stop by Raspberry, anchor the boat, and climb up into the hills to do some scouting. After some serious scouting, I find them, the entire herd, (according to ADFG, there are approx 80 animals on Raspberry), and I watch 77 through my spotting scope for a couple hours. 2 weeks before my season, and they are in the full rut, I count 69 Cows and Calves, and 8 bulls.
One is clearly the Dominant Bull, using a 5x5 rack and a lot of muscle to shove off three others with 3x3 or 3x4 racks, the rest, spikes and forks are hanging in the background. I have to wonder about the fact there are eight permits issued for this draw hunt, the first 12 days of October and at least that many more later for 8 bulls total?
The mating is going on before my eyes almost like a Nat'l Geo video watching this Dominant Bull run off the others then mount a few cows while the others try to sneak in for a little action themselves. It seems clear, they're all there for the party.
Not really a trophy hunter, I am still caught up by that 5x5 Bull as my hunt focus. I go back and forth on this, all hunt long, when considering the 'packing out' part of the hunt. That old boy looks huge on the mtn side, like a darn Steer compared to the rest. The larger bulls are about 30 percent larger than the rest of the herd.
Do I really want the largest Bull?
And why are there so few for all those harvest tags? As a Lifelong Commercial Fisherman, my life is totally directed by the word "Sustainability," do they really figure for that much failure in these draws?
Some problems with the rudder post on my boat, just before departure date has me in the shipyard doing 20hr days to get my transport and base camp dialed in.
Back in the water thirty hours ahead of the opening, breathing a sigh of relief, I have to hesitate at the weather forecast.
400 AM AKDT THU SEP 30 2010
...
STORM WARNING FRIDAY...
.
TODAY...
SE WIND 30 KT. SEAS 14 FT
.TONIGHT...
NE WIND 30 KT. SEAS 9 FT. RAIN.
.FRI...
NE WIND 35 KT INCREASING TO 50 KT IN THE AFTERNOON. SEAS
10 FT BUILDING TO 19 FT IN THE AFTERNOon.
RAIN.
.FRI NIGHT...
NE WIND 50 KT. SEAS 26 FT.
.
SAT...
SW WIND 35 KT. SEAS 19 FT.
.SUN...
S WIND 15 KT. SEAS 8 FT.
.MON...
SE WIND 25 KT. SEAS 11 FT.
Tho the rapid switching from SE to NE, then N, then SW and back to SE in wind direction is not a good sign for a mariner, ( a Major Front Moving Rapidly Defines Unpredictability) I'm gonna shoot for it and we throw off the lines.
The Hunt Is On !!
We pass through Whale Pass on a Really nice Sea and that's Raspberry Island off in the distance to the right of Kupreanof Passage. So Far we have jumped ahead of the Weather.
Anchoring that night, I pack an overnight camp and take off up into the country I had spotted them a few weeks back. I have my Father in Law along as a Packer. He is looking for a few Deer himself but elects to stay with the boat in light of the NE 50 that may sweep through the bay tonight. I have heavy duty anchor gear, tailored to anchoring along the AK Peninsula and Sanak Island while I Solo Fish for Black Cod Out West so, I am confident, the boat will be fine, but it's good to have him on board that night.
The night before the opener, I am camped in the main valley, prepared for a storm, with a roaring fire 'til midnight and ready for rain in my one man bivy tent. The wind that night, sounding like a freight train roaring down the valley doesn't really console me as I wait for first light, and man did it ever rain that night. I sleep and wait, warm and dry.
Morning One, I wake and glass the surrounding ridgetops, Yep, there they are, way up high, as far as possible from my anchorage and I must admit I am intimidated by the size of these Roosevelt Elk. Considering Packing several miles, in Bear Country, "It's too far." I'm headed back to the boat, gotta move closer, this shifting weather scene has me on edge.
We'll try to access them from the Raspberry Straits side.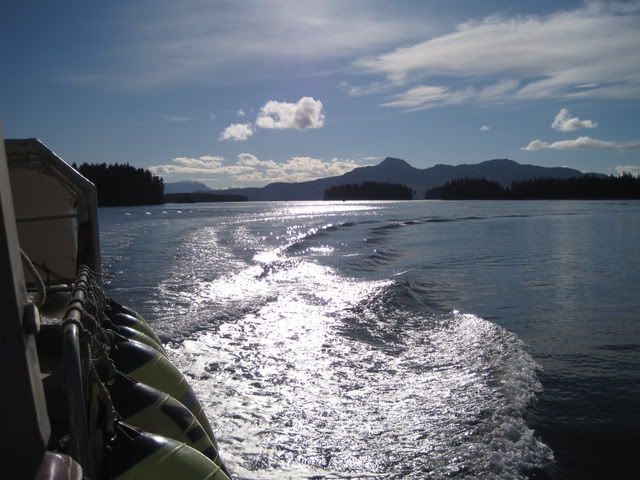 So Day two, we run, through protected waters, wind is from the north so it is deceptively calm through the tiny passage that is the southern end of Raz straits. Looks Soooo Nice, eh? But I know better. We're a bit protected on this approach to the northern end of the island but the rapidly switching wind will keep me on edge for days.