I didnt have my sled today, as we had to rebuild the front slat, busted as it was. fixxed that, but lacked the old snowgo belts I cut and nail to hold the bridal to the sled proper.
Soooooooooooooo........My pard Carl was persuing them with a Honda and a bull barreld, scoped out rem700, and left his cart on the trails hard pack , incase I got something....as I knew I would...~~LOL!!~~
She has the sweetest little sticks for antlers, Im gonna make into niksiks to jig for Sheefish with, in the next couple days.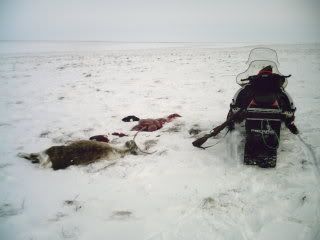 Heres a bunch eating on the side of the lake, as I rode home. Its best not to bug them much, but seee whats bugging them, as in Fur
....so I will keep watching and looking for wolves, and such.