It just happens that I sat here for 3 minutes thinking of a title, but what better than Pix of yeasterday/today? Still can't think...
Went looking for Fur, saw only Red Fox and Caribou....sooooooo, I caught a couple Females, and called it a "Day" Not bad, not bad....both fat enough and I was happy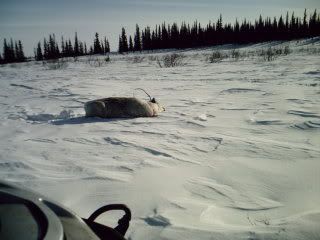 Kotzebue was close and it was getting dark, and I ended up sleeping over.
Went to the Kotzebue gunshop and talked waith Dan for a couple hours and noticed some most excellent Win made 12gauge#2 3'mags for 20$ a box
Traded one for a tank of gas and gave one to the Bro-n-law, and slep over.
Lost my Knife/belt in OTZ on the road somewhere, as the fell from an unzipped pocket on my travle bag...
Got up today and did it again, on the way home...~~LOL!!!~:rolleyes:
I cut an EXCELLENT set of 3 Wolves running together's tracks, but came to 2 snowgos tracks about 5 miles later , and they were on them....Cant get 'em all.....but there is tomarrow.. Sunny, -7 and little wind, I hope it holds.