Some Bears dont hibernate....~LOL!!~
The oldest son arrived a couple days ago from Deering , having crossed Kotzebue sound and going to Kotzebue first. He was fine but was sledless, as the bridal had broken and there was not much he could do but mark the sled as not to lose it and come home get some more rope, as he was "short"......
I brought enough to effect a good repair , and being a mile or so ahead of him, I pulled up and found these;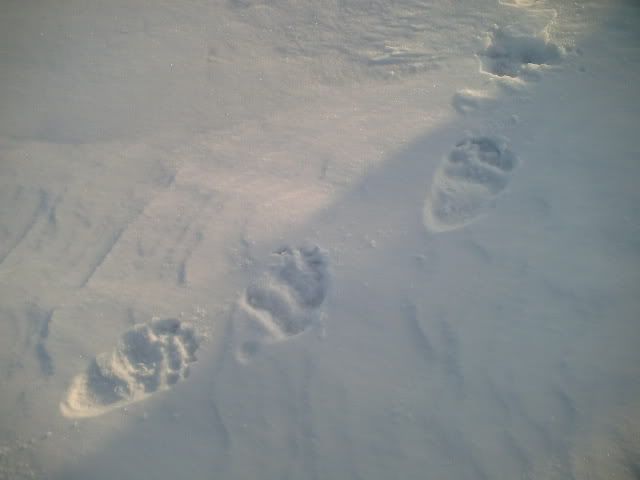 He didnt unload the sled, just sorta passed it by.....
We followed them for about 1/4 mile before comming to a wide crack, and lost his taril for a while, and then followed it for abot 10 miles before we figured he was long gone and our gas situation was at "turn around time"......sometimes the best Hunter go's home with nothing, but the son diddnt seem too put off.
Wish I had a picture of the Big fellow. Those boot prints s in the pict are baffins in size 12....... anyone fair to say how big Nanook might be?? ~LOL!!~
The killer Pix are compliments of "plwilli", Thank You VERY Much!!!!, as he sent me a camera so I may post away, as well as my neighbor, who let me download into my photobucket