To me, Good luck is opportunity meeting preparedness.
I was looking through binocs at the Mt behind the village the last couple days , and I see theres a few more small bands of Female Caribou passing along.
I was as far as I could go in the construction of a frame for the wifes soon to be ink on Caribou skin, so I picked up the M-39 and a box of shells , because you never know what you will see and how many shots you will get to take.
Meat and another canvas to prepare would be good, as Caribou skins are good leather this time of year, and we could always use a few more skins.
I was about 2 miles out of town when I sw a distant few walking to a creek, and I knew where to cut them off, and could hide behind an ice pushup "pingu".
Doing so I only waited about 15 minutes for them to arrive, because another snowmachine was driving down the trail and had them trotting. This was good, as the Caribou went my way and the other guy kept on down the steaked trail to Selawik.
They were about 50 yards away, across a ditch that leads from a lake, and I was on a pingo that raises about 30 feet high, and I was willing to get 3, but only one looked like I could use it at all, so I shot her with my Sako 7.62X54R with 149 Grn. and she dropped like a rock. The other 7 just ran to beat the band, they all looked young.
I peeled off the white underbelly peice because the wife has some idea about it. I peeled the rest of the skin and let free the neck to the base of the head, the entire back and down to each legs elbo/knee.
I am using a flat cargo sled, so I wanted to tie it down, and not ruin the meat, so I leave the skin on like a protective sack.
Then its easy for the ladys to bring in from the cold and skin for butchering.
We brought it in about 6 hours after I shot it.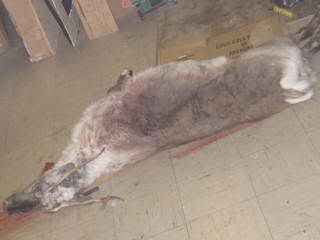 It was just getting frozen hard, but was that easy to skin, hardly any mess either.. No dogs, no Ravens on it while it was out there. The frozen blood looks black, but we just picked it out.
.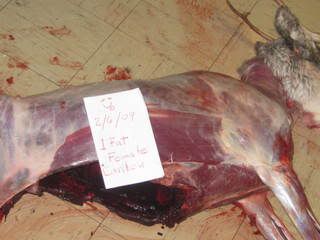 I bummed a friends camera, and I didnt want to change his settings, but I wanted a date on the picture...LOL!!!
So wrote it on the paper and set it there....I hope thats not Internet "tacky"...~LOL!!!~