Got to thinking about Head shots tonight, did 2 today, as Caribou are right behind town. One was shoot and drop, her buddy ran, stopped and I missed the first shot at her. "But" she stood there untill I did it right with the second shot, spewing her brains across the clean snow. Not bad meat, a bit of fat and tender young adults with nice tight"C" multi pointed antlers ,The sign of adult female caribou.
Anyway, my pard Bob started talking about his shooting, which I didnt see, and I noticed 3 Females with head shots on two and one in the neck in his sled. Jokeingly, I commented on the neck shot one , saying "Two outta three aint bad" and Bob replied with a laugh,"It aint a Seal!" I cought his drift. With Seals, you only get one shot.
Since hunting is our topic1/2 the time, I learn much from listening to my friends, and watching them in action, so I'm no spaer chuckin' expert, but I have had a front row seat to these guys in action. Even from the tent...
So we skinned , gutted and disassembled them while we B.S.'d untill dark, which came on fairly quickly, as we left town about 3pm.
Now my boys are getting old enough to hunt seriously on their own, and have been doing so for years, starting in the river and now they play in the Sea. The brother-inlaws too, and it works out well for all of us.
Most guys up here hunt Seals seasonally, if they live near the Kotzebue Sound. Head shots are the rule in this hunt, and I belive that it carries over to most all shooting.
My wife shot this with a .22lr at 50 yards, after drifting up to it while going to her Nets. She recognized it, shut off her motor and almost got to it...LOL! and got it as it raised its head from its nap.
In the summer, after it starts to get dark again, in the small river we Salmon fish at every summer, Seals will enter the river and lagoon and eat up Salmon. My family watches the shallow spots for Seals making their way up river and catch them there, or just shoot them in the river (Its only 20 yards across, and get a net streched out from the high bank on the next bend down stream will catch the body rolling along the bottom, or my boys will get it first, by peering down into the river looking for it on the bottom.They poke it with a harpoon or boat hook, and haul it up. Never lost one yet.
Kobuk River, where we are today is too wide and deep to do this, and besides, it frozen when were around here...LOL!
Jon and his First Seal.
They also haul out on the banks to rest and look like sandy colored short log chunks...kinda... and they shoot them in the head there.
Seal hunting is a different relm of hunting entirley.
Head shots and head shots ONLY.
In the water, in fall time, some Seals are shot in the head ,the only target they show, and will float, and its a productive hunt in terms of #s taken. Sometimes Seals are harpooned so that if they do attempt a get away, they are tied to the boat untill dispatched with a club to their thin skulls.
Winter hunts have Seals scratching out a hole to come up and rest/sunbath on warm days, and they face the hole, so they may escape quickly.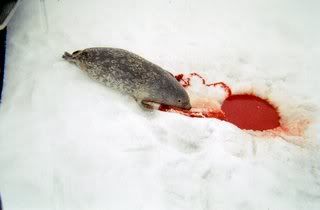 The Spring hunt is boating about, shooting Seals on drifting ice, and the seal always faces the water during his naps on the edge, checking constantly for danger and then napping again. They are very hard to get near, as they are nervous....Any sighn of danger, and its in the drink with a flip of the body, and its rather hard to retrive them when they do.My boys use a fish finder and snag them up with a bundle of sharp trebl hooks weighted down, but they cant snag them all.Sometimes its too deep, and you must not shoot...like a VERY steep mountain, and a trophy Sheep , you can only watch.
If your in a relativly shallow area, and anyone who hunts an are knows their territory....and a depth/fish finder helps...LOL!
Hunters must make a shot to kill it right there on the ice's edge. Many shoot right behind the eyes, and many shoot right at the base of the skull, severing the neck. Both drop them dead right there.
In the spring Big Seals called Oogruk are hunted on big pices of clean flat ice, sometimes many square miles in size.
I tend the boat and let the hunters off, while I fish for char and shoot Geese, Sea Scoters, Eiders and Oldsquaw. The guys will stalk them by hiding behind ice chunks, or slide in across the ice on sleds, on their bellys, in white cammo.
Its cool to watch.
They get one shot.
Then they are walking back with or without a Seal.
Gotta know when to shoot, and when to just watch.
Jon got this guy with his M-91/30 and Czech LPS FMJ....now tell me that keyholeing bullets dont rip 'er up.