First off, God is good. I'm not much of a storyteller and you won't hear me say I transformed into a seal team six mountain ninja to accomplish this hunt but my bro and I always hunt hard to the very end and it just so happened that we were at the right place at the right time. I always appreciate a good sheep story with pic's so even though I hate writing I'd figure other hunter's like myself can relate and here I am........writing........Last year my buddy drew a Carpenter Creek tag. Tough, Beautiful, Heartbreaking about sums it up. This year I drew a Metal Creek tag. I know the drawing system can't be fixed because we are a couple of nobody's. Two tough tags in 2 years... Yes.... God is good but it get's better. It's a typical sheep hunt, up and down mountains, scraping your junk across knife ridges, by the way if you ever go into the right fork of Friday creek please don't attempt to cross over to Cottonwood creek. It can be done (case of ram lust made me) but is not advisable. After that fruitless journey a few days go by with no luck but no worries we have one more day and thats all it takes. We make our way up to the ridge that overlooks Metal Creek and are just taking in the view and enjoying life. Then we hear rocks falling. Oh man I love that sound. We look to our left, pull up our bino's and 2 rams come meandering around the side of the mountain. My buddy turns around and we are cheesing. It's on. The rams bedded on an outcropping and we start heading up the ridge line completely out of their view. We finally go as far as we could before getting too steep for us humans. We had a nice little crack in the rocks where we could peek up and watch them. We were at the same elevation as them right off of the main ridge line separated by two big gullies. I left my spotter back at the tent so I could only make out some horn but only knew one was bigger than the other as they where still quite a distance away. Time to get comfortable. 4 hours later....yep... long bedding session they decide to get up. Im praying hard at this point because if they go back the way they came the hunt is over. Too cliffy and steep for me. They look in our direction and start making their way towards us! A bunch of "dude" and "bro" fills our vocabulary. I'm thanking God that I'm even getting this opportunity. They go down the first gully and pop out and then go down into the second gully and disappear. I waited this long so I decide to wait some more. We still have the elevation on them and they didn't get past us. An hour and fifteen minutes go by. A second group of 5 young rams comes out of nowhere. What the.....waiting is over. I figured the young rams will head over to the second gully and maybe push the older rams up out of it. My buddy goes high up on a cliff outcropping and I make my way to the gully down a rock chute. The young rams descend into the first gully out of sight and I pick up my pace. What was that? A flash of white below me. I crouch down on the steep angle of the mountain side, pull up the rangefinder. 175... It's the bigger ram. I pull up my rifle, scope him for a split second and he disappears behind the cliff face that my buddy is on top off. Crap. He got past me. Ok I lied earlier. I go into full mountain ninja mode and race back up the mountain to the outcropping that my buddy is on and where I believe the ram is below. I asked if he saw the 2 older ones but the angle and drop off is so steep he only saw the 5 young rams. I try to get the advantage again talking to God with each step and head past 2 more cliff outcroppings so I can get ahead of him. The wind was working for me. I go down a rock slide then started climbing around this cliff wall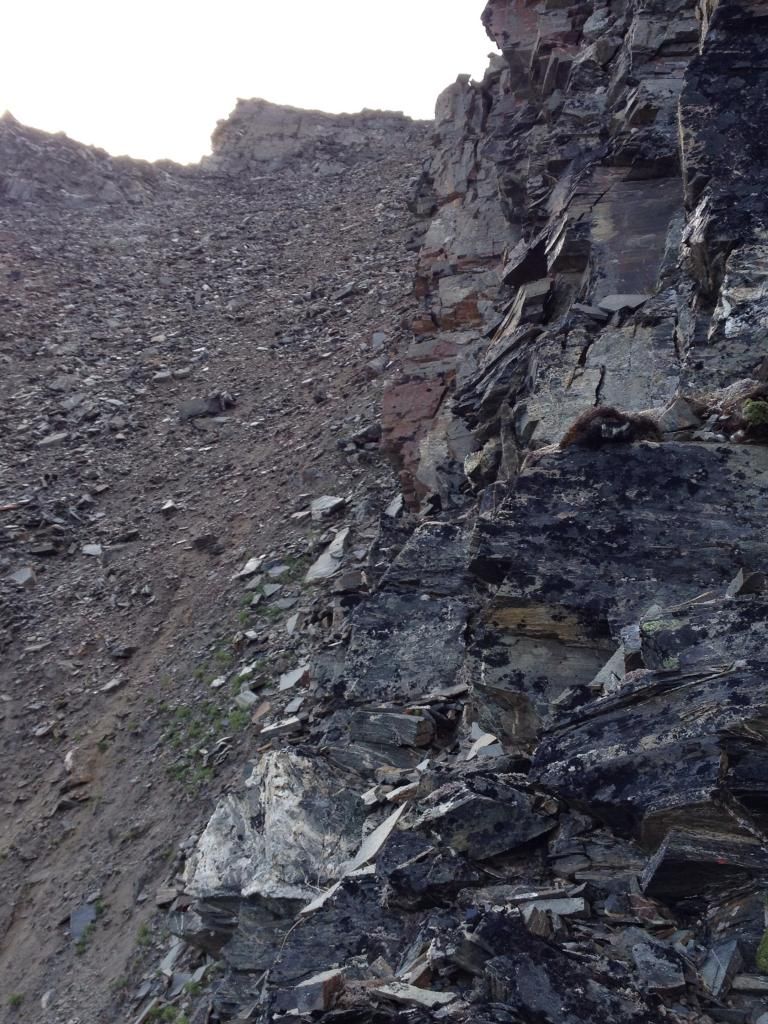 so I could peek around the corner and when I did there he was in all his glory. Broadside and head turned away from me on top of the cliff. That moment will always be fresh in my head even when I am an old man. The top arrow was where he was standing and the bottom arrow was where held my gun on that rock slab. It was a perfect rest and at the perfect angle. God is good.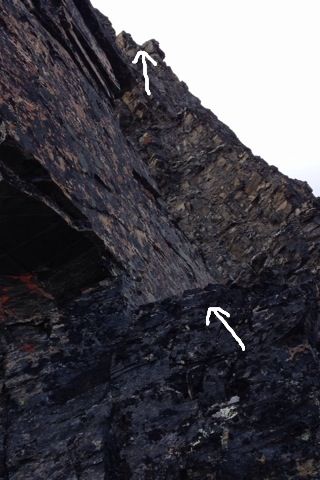 I snuck to within 66yrds and let that rifle do its job. I see the ram tip back and out of sight. I then hear rocks and see a big rock fly from out of the cliff then this white animal following behind it in a full cartwheel. Wow! He tumbles a little bit and is a bloody mess but finally comes to his final resting place. I yell out "thank you Jesus" multiple times so the atv'ers down at knik glacier could've heard me. I make my way down to him and am shocked. I never really got a solid look at him until now.
My buddy makes his way over and he is grinning. I still can't believe how it all came together but I should because I'm a believer. Patience pays off.
I didn't bring tape with me and I'm no expert, this was an any ram hunt and it was the last day. I would have been happy with anything so when I brought him to fish and game they busted out the tape and the bio says "39x13 1/4" I said "what"!! He says "good job" and shakes my hand. An awesome hunt from beginning to end and a big thanks to my bro for coming along. It's always good to have a hunting partner that shares the same hunter's passion and beliefs as yourself.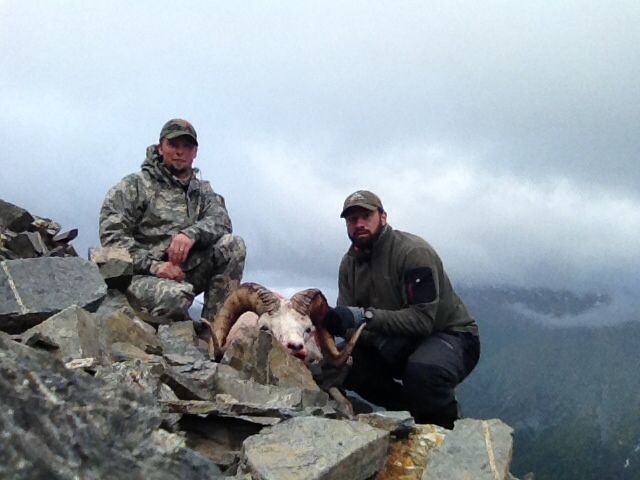 And now for my favorite part of the hunt. Hiking down a mountain in the dark with one headlamp. Hey, I didn't forget mine. Sorry Nate. In fairness I did forget the sim card for the sat phone in my truck. What a bunch of noobs.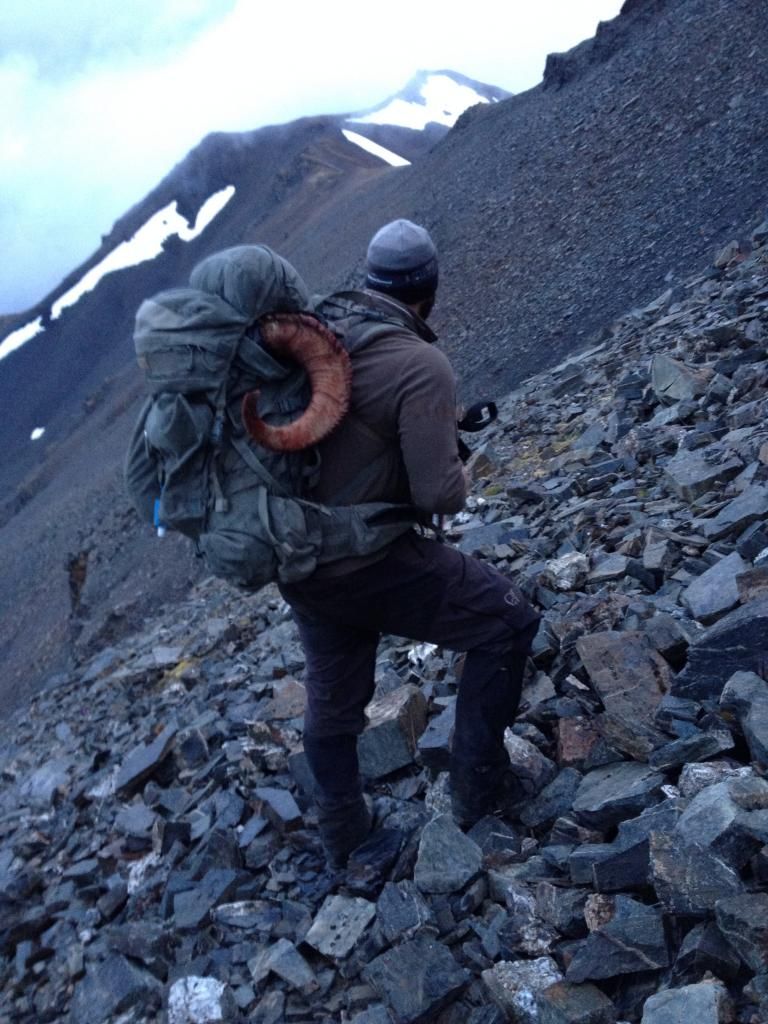 Before I left for the hunt my mom said if I get a beast I better spend that money on a mount. I had to listen to momma.
This was what I was really waiting for.