Sitting in the office and recanting another incredible year of moose hunting. Thirty six years ago my dad started hunting this area, and over the years it consistently has been the highlight of the hunting season. This year was a year of many firsts. It was the first year that extremely challenging weather threatened to put a serious crimp on our style. It turned out that it only caused a slight delay. It was also the first time in four years that we decided to hunt one of our most productive camps, an area affectionately referred to as "the draw" or "upper camp". Eight souls braved the two day trip into moose country this year, with myself, my 13 year old son, and another forum member taking an extra day to get to our destination, This area is a 6-7 mile hike from our normal spot, about a 600 hundred feet elevation gain, and one of my favorite places on earth.
Our extra day of work to get to upper camp involved quite a bit of chainsaw work, which wasn't unexpected given the lapse in time since our last hunt in this area.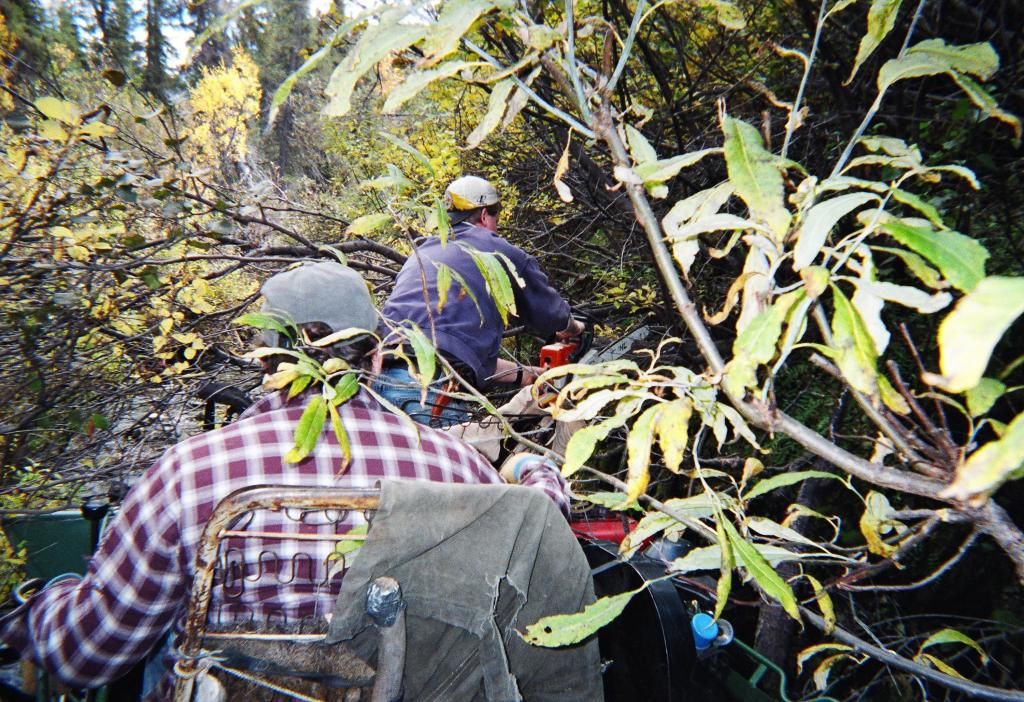 A couple close calls reminded me of the inherent danger. I tore the stiches off my pants as the saw kicked back on a seemingly innocent cut and later took a four foot fall into the creek after mistakenly trusting the integrity of a the tree I was traversing. A bruised behind and ego were all that resulted, however I distinctly recall during the split second that I was free falling into the creek that my hunt could quickly be over. At noon on day three we finally arrived in camp and quickly got setup. Over the years we've decked the area out, including a barrel stove, full 4 burner propane stove and oven, and a very comfortable "shelter"
After getting all gear unpacked we started off on the first night of hunting. Neither of my hunting mates had been to this camp before, so I quickly gave them a tutorial of the area. It's a very narrow valley, and we have an excellent lookout spot for the main hillside we hunt. A 30 minute hike up the hill and we were finally in position.
No sooner than I set down I quickly spot the right species, "well that didn't take long Dad" quips my son. A quick glance through the binocs and we can tell he is a super nice bull. I am certain he is wide enough, but given the quick exit from camp I hastily failed to bring the spotting scope, so we had no way of counting brows. We watched him for probably 30 minutes and given where he was, we could have easily put a stalk on him. I mentioned to the guys that I was still kind of tired from the long trip in, but if they wanted to go after him, we certainly could. Everyone agreed that it was the first day of an 8 day hunt, and we should just relax and watch that evening. After getting a fire going and warming up, my son yelled, "dad that moose is running!" I looked up to see the big bull in a full gallop, running directly across the hill. He was running as if something was chasing him, and he didn't stop until he crossed the creek and was nearly 500 feet up the other side of the draw. We fully expected to see a predator of some sort, but nothing ever gave us a clue of what spooked him. I surmised, much to my son's delight, that the bull had recently got his butt kicked, and that there was another bigger bull close. About 20 minutes later we saw two different bulls. This is going to be a good year guys! About 8pm we made our way to camp, eager for what the next day would bring.
Early the next morning, as my son and I slept in, our partner climbed back up the lookout. He came back to say that he saw a big bull with 4 cows up high. Another trip at noon and he saw the same thing. We quickly packed up the packs for an evening on the hill. An hour later and we were in position on a place I call "the knob". I have shot two bulls from this exact spot, and over the years its produced three other bulls. As I was putting up the decoy our partner said that we were in business.
I scurried over to see a legal but no more than 50 yards away. I tried to get my son in position but the opportunity didn't present itself. We quickly got the shooting sticks in place and I began calling with bull grunts and raking the brush. Within minutes the brush exploded 300 yards above us. There is one cow, two cows, three cows and I'll be ****ed, there is the big bull. I continued to call and he continued to thrash at an increasingly aggressive manner. At that moment I knew we had him. Over the next 10 minutes the big bull slowly closed the distance, stopping every 50 yards to thrash and grunt. My son pulled out the Mod 70 .308 and was ready on the sticks. At 200 yards the bull disappeared in the alders but there was no mistaking his presence. The brush exploded with raking and grunting. My buddy to my right, gun ready and my son to my left on the sticks I continued to thrash the brush. I pointed out a clearing to my son and told him to be ready. Within minutes he emerged, 150 yards uphill. I told Christopher to take his time, and when he was ready to take the shot. With the bull facing us head on, looking down, my son took what seemed like an eternity, but when he was ready he touched one off. The 165 grain accubond entered just above the brisket and exited through the right rib cage. He was anchored and not going far, my son calmly chambered another round and as the bull turned, calmly put another one through both ribs. Big bull down. After giving my 13 year old the biggest hug of his young life, we quickly packed up our gear and made our way up hill. What an amazing site, the permanent smile on a young hunter.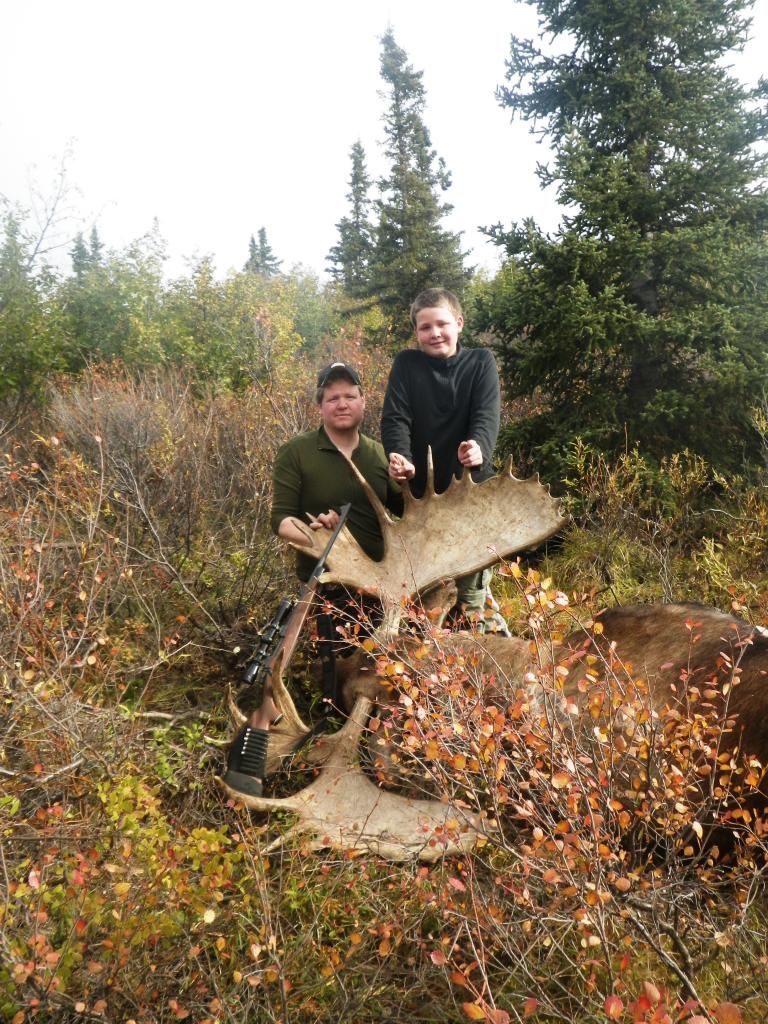 The bull measured just under 58 and was 4x5. An extremely healthy bull with an incredible amount of intestinal fat that I have no doubt was the reason the other bull quickly made his way off the mountain. After the celebration the work began and we quickly had the bull in cut up and in bags. The plan was to bring him back to camp the next morning in the moose buggy. Pork chile Verde had been simmering on the stove all day, and some hungry hunters were looking forward to a hot meal. As we began the hike back to camp, my son said "dad not so fast." He turned around and I got what is probably my favorite hunting picture of all. He paid his respects to the moose and thanked him in a manner that I will never forget.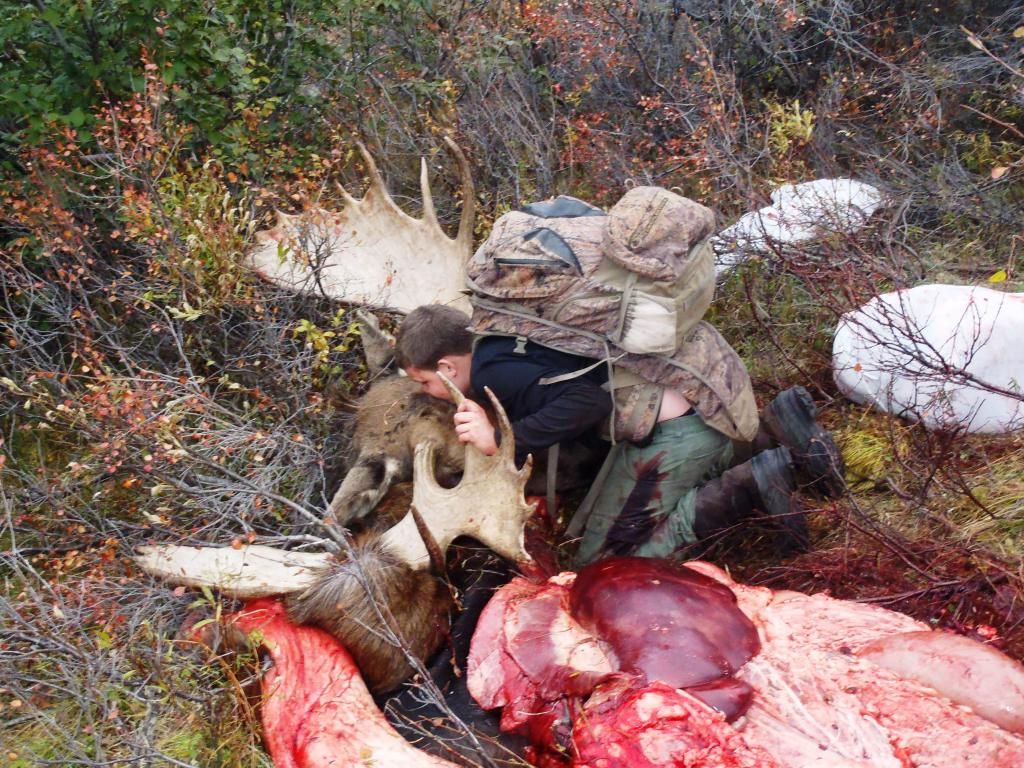 The next morning we climbed our moose buggy up the hill to retrieve our prize. Recall my previous mention of "firsts" on this trip. As we approached the kill site I instantly knew something wasn't right. The telltale signs of digging were evident. A small amount of alder and moss had been excavated and the burying process had begun. "dad, we are missing some game bags". A quick count showed that two bags were gone. We've had bear issues in the past, but never have we had a grizz get on our kill site so quickly and have never lost any meat to one. We quickly loaded the remaining game bags into the back of the buggy and ascertained that we were missing half a rib cage and the neck. An experience I will never forget, nor soon care to repeat was next. I jacked a round into my 10mm Glock and began the search for our missing meat. Crawling through the brush I knew how crazy this was, but I wasn't going to leave without a recon effort. Luckily the meat was close, both the neck and the ribs had some minor chewing, and the game bags were strung across the alder. We backed the buggy to them and quickly got the duck-out-of-fodge. An couple hours later and the meat was hung in camp. I decided to walk 100 yards over and retrieve the game cam that I had setup two days before. One chilling picture showed the culprit.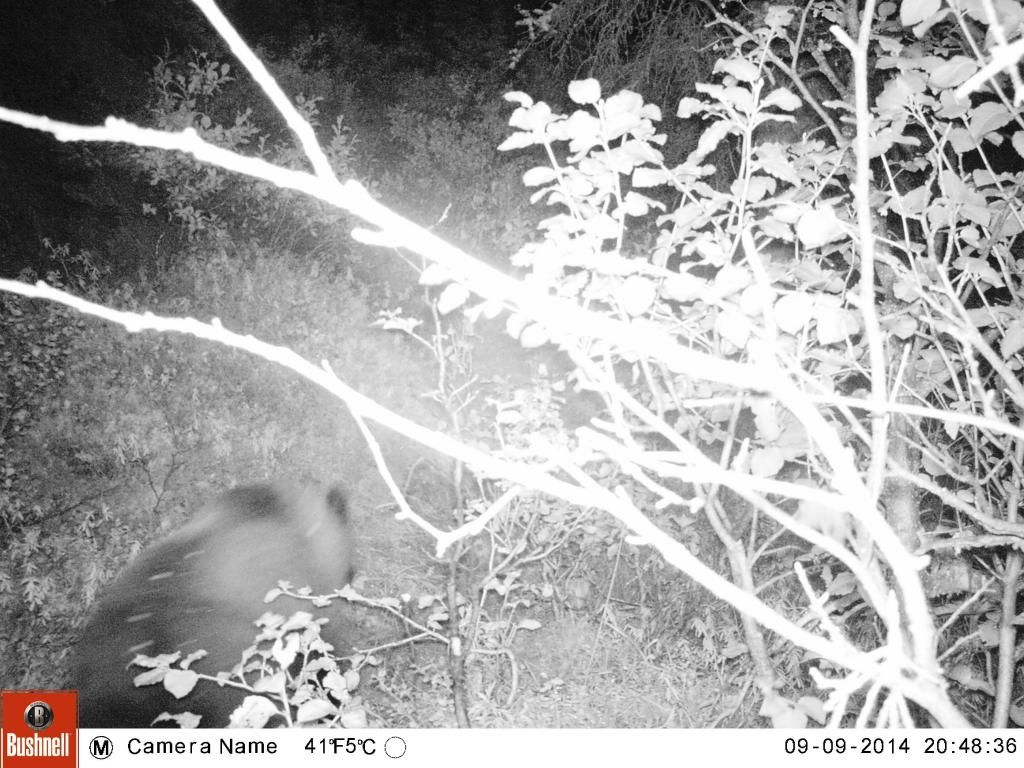 It was taken the previous night as we were eating dinner in camp. The big grizz no doubt had smelled the kill and was heading up, walking right by our camp in the process. We were lucky, lucky to retrieve what was stolen and lucky to not to have seen the thief in close quarters.
The next day we received a visit from the other camp, that morning they shot a dandy 61 inch bull. We had the meat we needed and could enjoy the rest of the hunt. My son helped me skin out the head for a euro mount, and he proceeded to hunt spruce hen for the next several days and we enjoyed the comforts of camp.

As we began the two day trip out I tried to soak in all that we encountered. Moose hunting has never been better, we saw at least 6-7 different bulls, all legal. While I never wish to repeat the experience of looking for stolen meat, it was one which I'll never forget and I'm sure tell the grandkids when I'm old(er) and grey('r). But mostly I marveled at how well my young hunter handled the entire experience. His calmness during the stalk and his patience, waiting for the right shot as well as his deep respect for the animal and the experience, will forever stick with me. Good job Chris!