Made our trip back into Mal's spot this year and were lucky enough to come out on the winning side again. We packed into the area on the day before the opener, and were amazed to find that we were all by ourselves this year. Heard reports from people at the trailhead saying they had seen zero caribou, which was similar to other reports that I've heard in the last few days, but we didn't care. Its a nice spot, and it was going to be a fun trip regardless. So we got everyone loaded up and got ready to hit the trail.
[/URL]
Took several hours to get back in, but we settled in and made camp, and had us some dinner. The kid was starving by this point.
[/URL]
Next morning started with the sound of a spooked horse, so I was up. Evidently he touched the fence and paid the price. Since I was up, I made me some coffee and just enjoyed the quiet. Did some looking while sipping my coffee and after about 30 minutes, spotted a small herd (8-9) cows and calves coming over a small ridge about 2 miles away. Kept watching the area and eventually spotted a larger animal, but didn't see his head. Kept an eye on the area and fixed me another cup of coffee. Eventually, the animal came back in an open area, and I seen he was a decent bull. So, went over to the tent and told Mal that I seen a bull we should go after. Last year, she came out of that tent like her hair was on fire. This year, not so much. Teenagers....useless. After a second reminder, she was up and sort of ready to go. Got the horses tacked up and headed that way. Got to an area near the bull, and tied the horses up on some willow, and headed off on foot. We covered about 400 yards, when I noticed something that was either a funny looking rock, or a caribou. Threw up the binos, and seen it was the bull looking at us at about 300 yards. We laid down and got the bipod into position, and got ready. The bull decided he needed to get a bead on us, so he came running toward us. After several stops, he was at about 150 yards and gave her a quartering on shot. She took the shot, he dropped like a rock. Another caribou season ends almost the same as it had last year.
[/URL]
We had a great day to take our time and get him apart, then went back to camp and hung him in the shade to cool. We spent the rest of the day riding and exploring, seen several more caribou, all of which ran to us. Got back to camp in the evening and got the horses fed. Had a little red Robinson helo fly up the valley, then came back out right over our camp. I told Mal, bet thats a trooper and he's gonna check us out. Sure enough he spins around and lands a little ways from camp. He came over and checked all the usual stuff and was then on his way. Like that they are patrolling the CUA, I've seen way too many guys abusing it in the past years. Anyways, ate dinner, then had us some coffee, and hot chocolate and just enjoyed the evening. Just after sun down, the horses all alerted, and out pops a nice bull caribou about 300 yards from camp, almost in the exact place Mal shot her bull last year. Same thing happened again the next morning. Good spot we camp at I guess. Packed up all the gear and meat, then headed back out to the trail head. This year I packed my little 28 gauge in for the walk out. The dog put up quite a few ptarmigan, and I ended up shooting a good little bunch by the time we got back out.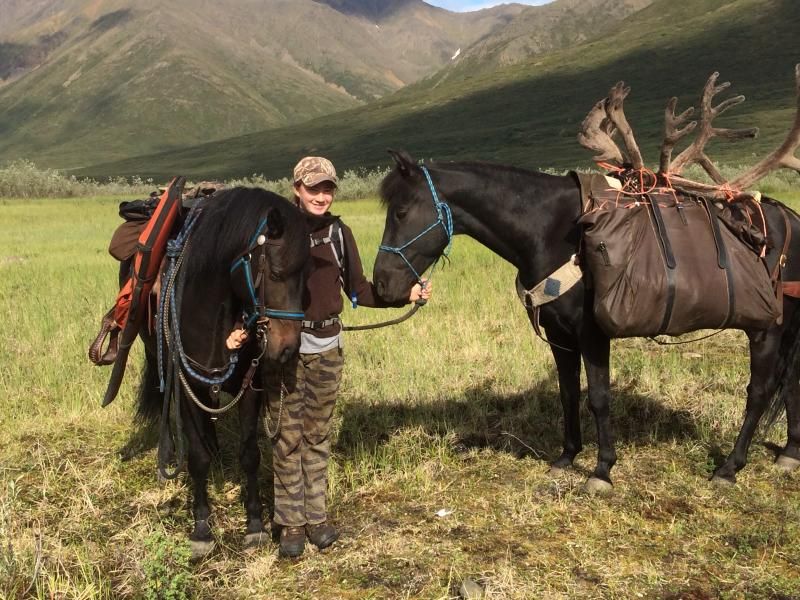 All considered, it was a great trip and some real good time spent with the girl. I'm just amazed at how much she's grown in the last few years, and know that these are the memories I'll carry with me to the end of my days. Feel lucky to be able to do this.