It all started years ago when I was stationed at Eielson AFB near Fairbanks. I was new to the state and wanted to get out and experience some of what it had to offer. I was interested in doing a boat based hunt in the sound and was asking for info here on the Forum. Stid PM'd me and offered to take me on a trip out of Valdez as one of his buddies was unable to go. I jumped on it. I didn't get a bear that trip, but met an amazing man that I proudly call my friend. It was an awesome experience, and unfortunately until this year I was unable to meet back up with him for another hunt. I contacted him about a month ago asking if he knew anything about a subunit the wife and I have cow tags in. During the conversation, it turned to that bear hunt years ago. He then said he may have a spot again and I quickly said I was ready and willing! Next thing I know I'm meeting up with him in beautiful Valdez for another adventure! We got some sleep and then packed up and headed out mid morning on the 17th of May. Flat seas and light overcast made for a great run to the hunting grounds. Our original camping spot unfortunately was occupied so we set off in search of a little know pad close by. After some very coordinated wondering around we found the spot and quickly unloaded and setup camp.
Our food area we set up away from the Arctic Oven.
Soon we were working on readying his very capable raft with a 20hp Merc Jet.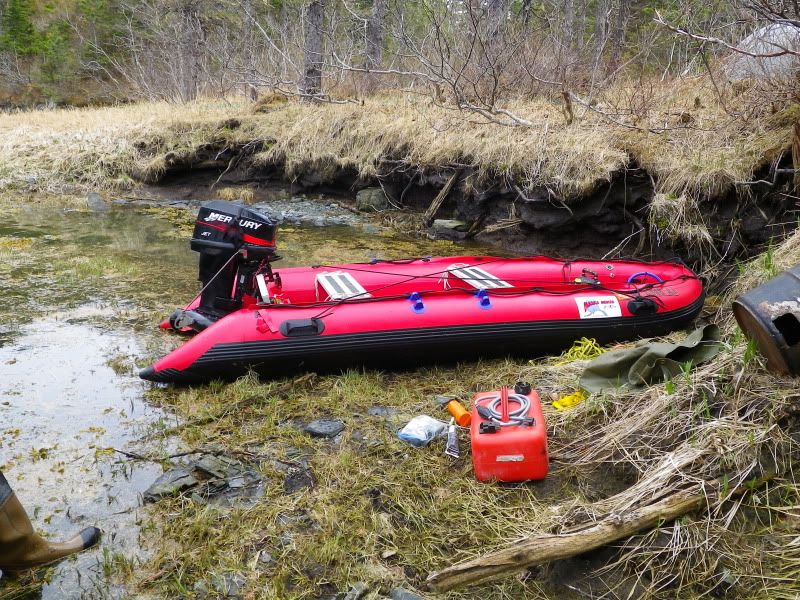 This would be our main transportation for getting into our hunting area. Once ready, we head off to setup a bait station in a very good area that he has had good success in. By 4:00 pm we were back at camp anticipating everything to come.