It was a VERY nice day today!
Must have been 25 above, no breeze and clear. After a winter of storms and cold, it feels like T-shirt weather.
As we got out on the Kobuk lake, about 1/2 way from Kotz, we came across people stopped and cooling their rigs, drinking coffeee, smoking up and saw that they had a load as well, but these were still twitching, flapping, hopping in the sled box. "JOY!"
So we couldnt help but veer the half mile South and join the wifes cousins in a slam of pulling up Big ones......we had 40+ in an hour, between two of us, and then the school passed. After nothing for 30 or so minutes, we decided to carry on.
We left those under a tarp and snow,
After dropping off the last few days catch into a fish box, we headed back to the lake for our Fish and some ptarmigan I had seen on the way home earlier.
Got both.
So heres Pix of todays fish, and a couple of the Girls with mom.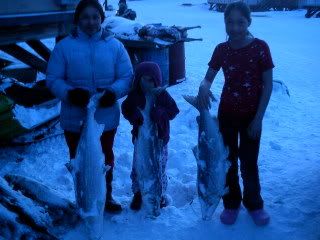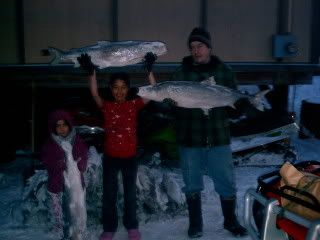 Weven traded and give away many fish, and now its time to cut them.
They are soooooooo FAT, I cant wait!! Well spilt them for drying in the cool spring sunshine, before the flys come......fry the heads and boil the claened out stomaches, and have a big big Chowdown
We also boil the FAT FAT intestines slowly and skim off the oil , so we have a good dip for dry'd fish and frozen fish.