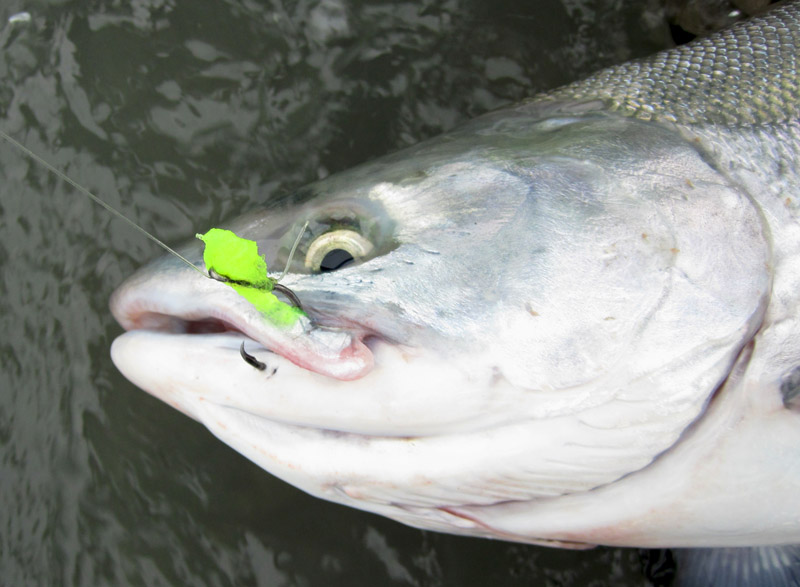 Seeing as how we are potentially on the verge of an unprecedented in-river return of Kenai sockeye, I thought I'd resurrect this topic to encourage folks to give circle hooks a try for flossing reds this year.
In my party's inaugural trial last year, every fish caught with the circle was hooked squarely in the jaw or around the maxillary plate as shown.
No foul-hooking of other body parts. No hens belly-ripped only to have their eggs water-hardened and rendered worthless to the escapement. No unnecessary prolonged exhaustive battles with fish foul-hooked in the arse or belly. No wasted time/effort battling snagged fish that ultimately have to be released anyway. Bottom line, you'll limit out faster, cycle thru, and let the next guy get in there to do the same. Just might come in handy when the limit goes to 6 or perhaps even 12 daily.
CLEARLY a better and more efficient way to floss reds. Lord only knows the sport contingent will need every available advantage to help ADFG crop this run down to BEG. Wouldn't want to over-escape the river with all those surplus sockeye, would we?
Another bonus is that the hook point does not dull against the rocks

Deadly effective
... with or without the infamous Kenai "rip".
What more need I say?