Hope everyone had a great Memorial Day weekend.
i was fortunate enough to fish with both my daughter and son for halibut off our Hobie Outback Kayaks. Over the weekend, a kayak angler spent hours in the water after he overturned, but was safely made it back due to the fact he was prepared for immersion with a drysuit and PFD. My kids our outfitted with drysuits and PFD by Kokatat and it gave me the confidence that they could safely get out and fish.
This year, the fish haven't been very large, but they have been more than plentiful. The three of us released well over a dozen fish over a four hour span and managed to keep a limit of 6 fish averaging about 20 pounds.
I'm always amazed at how kids pick things up so quickly. While my 1 year old son is a pro already... literally, as he has been nominated for the Hobie Kayak pro staff fishing team. My daughter however doesn't fish much and this was her first time out ever for halibut off of any platform. She did great and I am prety sure she caught more fish than my son and I.
take your kids fishing! The rewards are amazing!!
So here is the video and a few pics.
The video: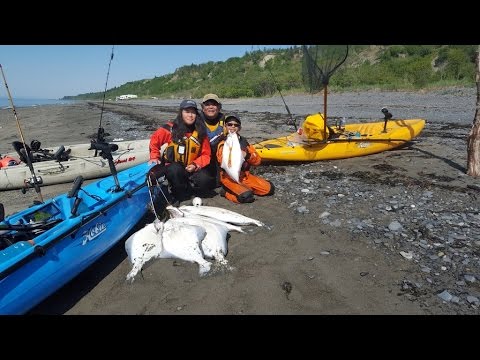 A few pics: