I just finished reading the "Upper Sheep Creek" thread, and started thinking about building/buying a heavy-duty wheel cart set-up for my cat. Dragging and carrying a cat to some rivers is necessary, but it can really suck. It would be great to have a set-up that could attach to a frame and be able to wheelbarrow-style over rough terrain to the put-in; then, fold it away neatly on the frame when running the river, so it's not sticking up, creating a potential hazard or snag. My thinking is, with difficulty, I would be able to self-sufficiently access runs like Upper Sheep Creek, Upper Eagle River, the Lower Kings, and a couple others I have my eye on.
After watching a video of a lady and her husband using two-wheeled NRS carts, in order to access the Class V Forks of the Kern in California, I got a few ideas. The plastic frames of at least one of the NRS set-ups broke, so that seems like a pretty poor set-up for AK. They also lacked clearance, making them problematic to go over obstacles. One of the other guys had what appeared to be a custom made old BMX type mag wheel with higher clearance, and he apparently made it the two miles to the river without incident.
Here is a photo of my set-up: sans pump, pfd, drysuit, rescue gear, and any overnight camping gear.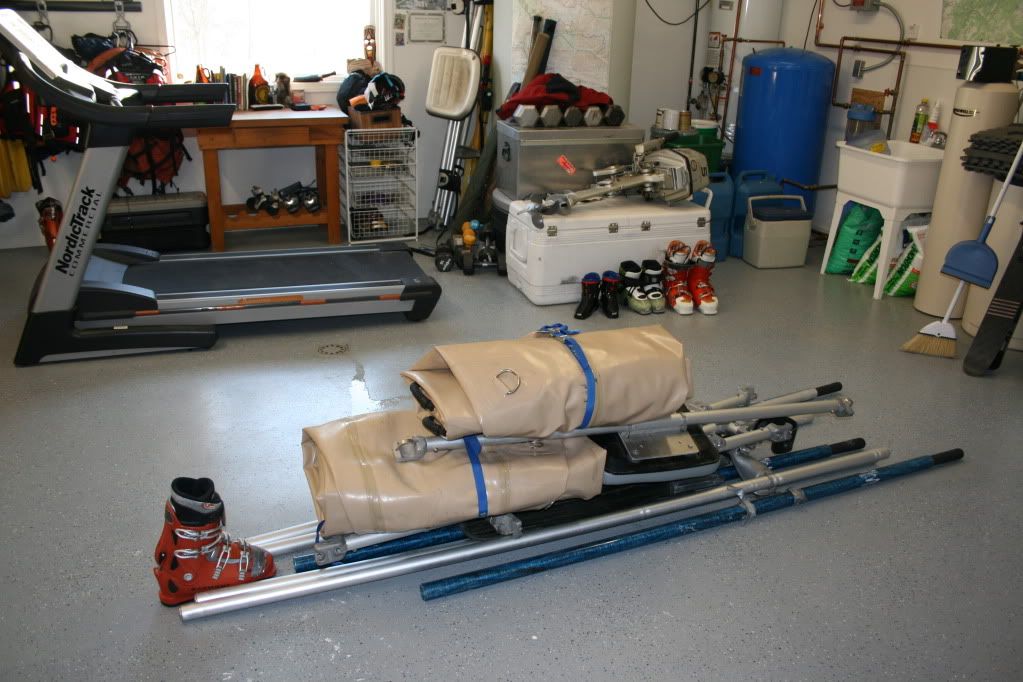 I was thinking of putting a wheel where the ski boot is located.
Anyone have any ideas on a tire configuration? Frame attachment? A break system would be cool too. I want something burly, yet light that can go over Alaska's diverse terrain.
Thanks,
Josh